LC Duplex Online/Offline Fiber Switch, with Remote
Featured Product from Electro Standards Laboratories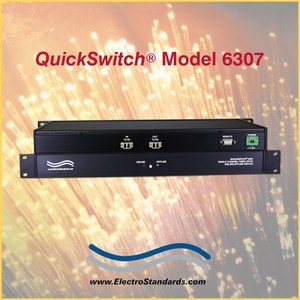 QuickSwitch® 6307 Single Channel LC Duplex Online/Offline Switch, Single Mode, 9/125 micron with Contact Closure Remote
Quick Connect/Disconnect to/from network.

Absolutely NO DATA passes when switch is in the Off-Line position.
SPECIFICATIONS:
PORT CONNECTORS: (2) LC duplex Angle Polished connectors, labeled IN and OUT.
FIBER: 9/125 micron, 1310 nm.
FRONT PANEL CONTROL: (1) Manual pushbutton allows local switching.
DISPLAY: On the front-panel, (1) Red LED (ONLINE) and (1) Green LED (OFFLINE) display switch position and power.
REMOTE CONTROL: (1) DB9 female connector on rear panel accepts Contact Closure commands for Remote Control operation.
POWER:

UL Approved 100VAC/240VAC, 50 Hz/60 Hz wall mount power module supplies 12 VDC, 500 mA to the unit.

Has 2-prong, US, non-polarized plug.
DIMENSIONS: 19.0" W x 1.75" H x 8.0" D. [48.3 x 4.4 x 20.3 cm]
WEIGHT: Approximately 4.5 lbs. (2.0 kg)
FEATURES:
Allows quick connection or disconnection between two fiber optic networks or devices.
The switch ports are transparent to all data.
All fiber signals are switched via break-before-make MEMS-based mirror/prism switch technology.
When power is lost, switch reverts to the OffLine position.
Upon power up, unit switches based on state of Contact

Closure.
Front panel pushbutton control.
Front panel LED's display present position and power status.

Remote Contact Closure control provides dry contact logic to allow the control of the switch position and lockout state, as well as status.

A pulse to close contacts across Pin 4 and Pin 5 of the DB9 Remote port causes the unit to switch between OnLine and OffLine positions.
When Pin 1 is shorted to Pin 2 the front panel will lockout.
Remote status provided via Pin 7 and Pin 8. When pins are shorted the unit is in OnLine position and when open the unit is in OffLine position.

Fiber optic ports (COM & A) are LC Duplex Angle Polished, Single mode, 9/125 micron, and support a wavelength of 1310nm.

The fiber ports are configured per TIA/EIA-568-B.3, where the TX of the COM port is routed to the RX of the A ports and vice versa.
The QuickSwitch® 6307 Single Channel, LC Duplex Online/Offline Switch with Contact Closure Remote allows the user the capability of connecting or disconnecting two separate devices, ports "COM" and "A", via an Online or Offline connection. The QuickSwitch® 6307 fits in a standard 19" rack, taking only 1U of rack space.
The switch may be controlled manually via the front panel pushbutton or remotely from a DB9 port located on the rear of the unit. Switch position state may be attained via the front panel LED.
Option: Wide Range Power Supply: (Cat No. 517277) CE, RoHS, and UL listed table mount power module, 100VAC-240VAC, 50-60Hz for use in place of the standard power module that is included with the unit. Has IEC 60320 C14 inlet. Ideal for international applications.
TO READ THE ARTICLE EITHER CLICK THE LINK OR APPLICATION ICON AT TOP OF PAGE: "HOW TO DETERMINE THE RIGHT FIBER OPTIC NETWORK BACKUP SWITCH FOR YOUR APPLICATION", click link to read as a pdf. You need Acrobat Reader to view the file.
QuickSwitch® is a registered trademark of Electro Standards Laboratories.
QuickSwitch® Fiber Optic Switches are available in many configurations: auto fallback, switch/converters, multimode & single mode, and secure off-line positions. Check out our complete line of QuickSwitch® fiber optic switches.
For custom fiber optic network switches contact our friendly sales support staff at 401-943-1164; or email: eslab@electrostandards.com, or complete our online Custom Product Request form.
Electro Standards can supply all your Fiber Optic Cable requirements.
All ESL products are available for export.
Electro Standards welcomes International inquiries: commutateurs à fibres optiques, interruptores de fibra óptica, switch in fibra ottica, switches de fibra óptica, fiberoptiska switcher.