M4133 Switches to Backup When Primary Line Fails
Featured Product from Electro Standards Laboratories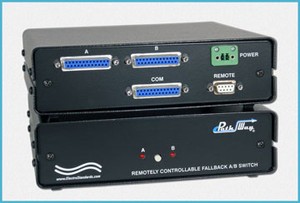 Model 4133 DB25 Single Channel A/B Automatic Fallback Switch with RS232 Remote Control
Automatically switches to Backup Line when Primary Line Fails.
SPECIFICATIONS:
PORT CONNECTORS: (3) DB25 female connectors labeled A, B, and COMMON.
FRONT PANEL CONTROL: (1) Manual pushbutton to select switch position and mode of operation to be changed.
REMOTE CONTROL: (1) DB9(F) connector labeled REMOTE accepts RS232 Serial Data ASCII commands.
DISPLAY: (2) Red LED's display switch position, and switch mode.
POWER: UL approved 100VAC/240VAC, 50Hz/60Hz wall mount power module supplies 12VDC, 500mA to the unit. Has 2-prong, US, non-polarized plug.
DIMENSIONS: 8.10" W x 2.41" H x 7.30" D (20.6 x 6.2 x 18.6 cm).
WEIGHT: Approximately 1.9 lbs. (0.9 kg)
DB25 AUTO FALLBACK APPLICATION:
The drawing illustrates a single channel of DB25 switching. A COMMON device connected to the DB25 COMMON port has access two other devices connected to the DB25 Port A (PRIMARY LINE), and the DB25 Port B (BACKUP LINE). The switch monitors activity on the PRIMARY LINE (port A). Once activity is lost, the unit switches to the BACKUP LINE (Port B). The user can override the automatic fallback operation via the front panel push button or using ASCII Commands via the DB9 REMOTE port.

FEATURES:
Ideal for fallback applications.
The switch ports are transparent to all data.
All (25) pins of the DB25 interface are switched via break-before-make electromechanical relays.
The unit maintains last set position on power loss and continues to pass data.
Front panel pushbutton control.
Remote RS232 ASCII commands that allow the user to control the switch position, lockout front panel operations, change the fallback mode, set the delay time, select pins monitored, change the recovery mode, and obtain switch status, as well as query firmware version, serial number, and enable/disable autosend of switch positions.
REMOTE port contact closure status on pins, 6, 7, and 8 provide dry contact logic to obtain present switch position.

Automatic switching based on RS232 TD and/or RD activity on Port A, with monitored signals selectable by RS232 commands.

Recovery Mode can be set to either Automatic or Manual.
Front panel LED's display present position, switch mode, and power status.
The PathWay® Model 4133 Single Channel DB25 Auto Fallback Switch with RS232 Remote Control allows the user the capability of sharing a single port interface device connected to the "COMMON" port among two other devices connected to the "A" and "B" ports, with remote access functionality. The Model 4133 is packaged in a slim desktop style enclosure.
The switch may be controlled locally by manually operating the front panel pushbutton or remotely from the DB9 female serial interface Remote port located on the rear of the unit. The front panel LED display indicates the switch position, switch mode, and power status.
The unit monitors data activity on port "A". If the unit is in the A position and activity is lost for the duration of the set delay time, the unit automatically switches to the B position. Depending on the Recovery Mode set, the unit will then either remain in the B position until commanded to switch to A position by the pushbutton or Remote, and switch back to A automatically when the signal returns.
Option: Wide Range Power Supply: (Cat No. 517277) CE, RoHS, and UL listed table mount power module, 100VAC/240VAC, 50/60Hz in place of the standard power module. Has IEC 60320 C14 inlet. Ideal for international applications.
Custom Network Switches are available. Contact us by phone, email, or complete the Online Custom Product Request Form.
Electro Standards can supply all of your Network Cable requirements. Click here to reach our CABLES, COPPER NETWORK Webpage.
All ESL products are available for export. Electro Standards welcomes business from International companies: commutateur de réseau, conmutador de red, switch di rete, przelacznik sieciowy , switch de rede, nätverksswitch.