M4720 Monitors Ports&Responds to Custom Protocol
Featured Product from Electro Standards Laboratories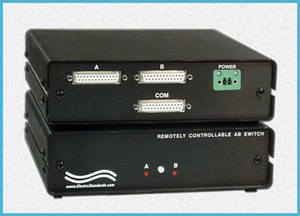 Model 4720 Single Channel DB25 A/B Switch, Monitor A & B for Control, Custom Protocol
SPECIFICATIONS:
PORT CONNECTORS: (3) DB25 female connectors labeled A, B, and COMMON.
FRONT PANEL CONTROL: (1) Manual pushbutton allows local switching.
DISPLAY: (2) Red LED's display switch position, and power status.
POWER: UL approved, wall mount, 100VAC/240VAC, 50Hz/60Hz wall mount power module supplies 12VDC, 500mA to the unit. Has 2-prong, US, non-polarized plug.
DIMENSIONS: 7.5" W x 7.25" D x 2.0" H (19.1 x 18.4 x 5.1 cm).
WEIGHT: Approximately 2.5 lbs. 1.13 Kg
DB25 APPLICATION: The drawing illustrates a single channel of DB25 switching. A COMMON device connected to the DB25 COMMON port has access two other devices connected to the DB25 Port A (PRIMARY LINE), and the DB25 Port B (BACKUP LINE). The switch monitors data on ports A (PRIMARY LINE) and B (BACKUP LINE) and responds to custom protocol ASCII character.
FEATURES:
Model 4720 allows quick connection to any one of two DB25 interface devices from one COMMON device.
Switches pins 1 - 8 and 20 of the DB25 interface.
Local control via front panel pushbutton.
Data on both ports A and B looked to for ASCII character command sequences — "Switch to A" commands received and responded to on port A; " Switch to B" commands received and responded to on port B.
ASCII commands are identified, stripped from data stream, and not allowed to pass through the A/B Switch unit.
Each received command is responded to for positive receipt of command acknowledgement.
Custom command protocol designed to enable the A/B Switch unit to respond per command acknowledge receipt of command and provide status information per command request.
RS232 multi-drop configuration for monitored data on ports A and B.
Each Switch has a programmable dip switch to create its unique address/identity.
Commands include CHANGE switch position, QUERY switch position status, and LOCKOUT/UNLOCK front panel control.
Front panel LED's display switch position and power status.
Retains last switch position in the event of power loss and continues to pass data.
Attractive anodized black box packaging provides EMI/RFI shielding.
Custom length DB25 cables available for your switch installation.
The PathWay® Model 4720 Remotely Controllable DB25 A/B Switch monitors the data on its A and B ports and responds to custom protocol ASCII character "Switch to A" or "Switch to B" command sequences. Local control is also available via front panel pushbutton.
Option: Wide Range Power Supply: (Cat No. 517277) CE, RoHS, and UL listed table mount power module, 100VAC/240VAC, 50/60Hz for use in place of the standard power module that is included with the unit. Has IEC 60320 C14 inlet. Ideal for international applications.
For custom network switches call our friendly customer support staff at 401-943-1164, email eslab@electrostandards.com, or complete our online form.
Electro Standards can supply all of your Network Cable requirements. Click here to reach our CABLES, COPPER NETWORK Webpage.
All ESL products are available for export. Electro Standards welcomes business from International companies.