M8076 2-Channel RJ45/110-Block Keylock Switch
Featured Product from Electro Standards Laboratories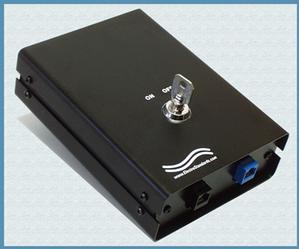 Model 8076 Two Channel RJ45/110-Block,
CAT 5e 100 Base-T Network Access Keylock Switch
High Quality Manual Data Network Switches Increase the Reliability of Your Network.
FEATURES:
Compact Size: 2.37" H x 5.52" W x 7.75: D (6.1 x 14.1 x 19.7 cm)
Weight: 1.3 lbs. (0.6 kg)

Supports (2) RJ45 100 Base-T Cat5e drops.

"Normal" and "Break" positions via key access switch labeled "ON" and "OFF".

Key is removable in the "OFF" position and captive in the "ON" position.

100 Base-T, RJ45 female exit ports, external panel access.

Cat5e 100 Base-T Compliant.

Internal to box, 110 punchdown of incoming lines.

1/2 inch diameter conduit access for input cables.

Key shaped cutouts on bottom cover to facilitate wallmounting.

Municipalities, schools, government: On GSA Schedule!
KEYLOCK SWITCH APPLICATION: The diagram shows two RJ45/110-Block punchdowns, Line 1 and Line 2. The Keylock allows the user to select the ON ("NORMAL") position or the OFF ("BREAK") position.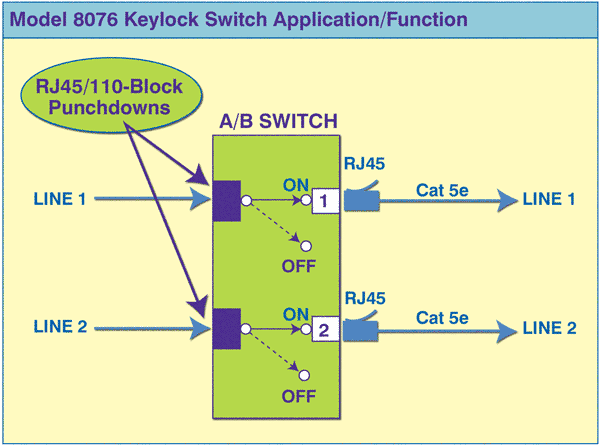 The Model 8076 Network Access Keylock 2-Channel Switch accepts two 8-conductor Cat5e cables INPUT via two RJ45/110-Block punchdown connectors, and allows the user to switch-through or break-from two OUTPUT RJ45 exit ports. The user can remove the top cover of the network data switch and punch down the connections inside the unit.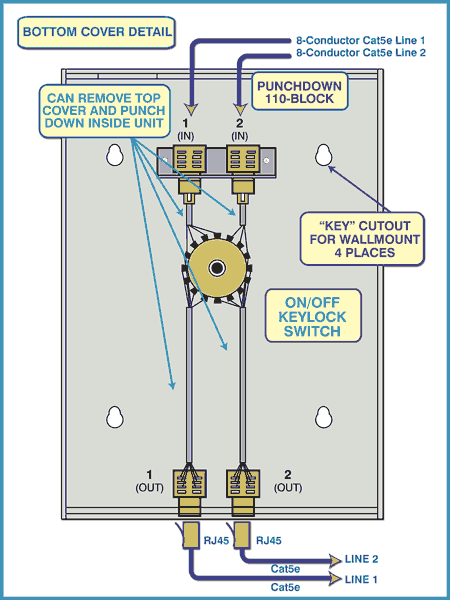 This high-quality network switch is available to city, state, and federal government purchasers at a discounted price and favorable payment and shipping terms via GSA Schedule GS-35F-0286V.

Custom Network Switches are available. Contact us by phone, email, or complete the Online Custom Products Form.
Electro Standards can supply all of your Network Cable requirements. Click here to reach our CABLES, COPPER NETWORK Webpage.
All ESL Manual Data Network Switches are available for export.