Model 6293 Fiber Optic ABC Switch, Single Mode
Featured Product from Electro Standards Laboratories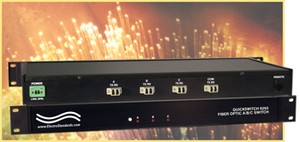 QuickSwitch® 6293 Fiber Optic Mirror A/B/C Switch, Single Mode LC Duplex with Remote Serial Access
Remotely controllable from Terminal Server connection to switch serial CONTROL port.
Ideal for Dynamic Backup Applications!
The QuickSwitch® Model 6293 Fiber Optic Mirror A/B/C switch with Single Mode LC Duplex and Remote Serial Access allows the user the capability of sharing a Fiber Optic LC Duplex pair connected to the COMMON port among three other sets of LC Duplex pairs connected to the A, B, and C ports with local and remote access functionality. This Remote access can be accomplished using an RJ45 connection and ASCII commands.
Features:
The switch ports are transparent to all data.
All switched signals are passed via mirror relays that maintain their position and continuity even in the event of a power loss or failure.
Supports single mode fiber (SMF-28), 9/125 micron fiber with a wavelength of 1310 nm.
Control of the switch position from an RJ5 serial port or alternatively, the front panel push button.
Remote ASCII command interface that allows user to control switch position and obtain switch status.
Front panel push button may be "locked out" using the remote ASCII commands.
MEMS mirror switch supports OC12 speeds of 622 Mbps.
Requires customer supplied -48 VDC, 500 mA power input.
Specifications:
Wavelength: 1310 nm.
Port Connectors: (4) LC Duplex connectors labeled A, B, C, and COMMON.
Control: (1) Pushbutton allows selection of switch position.
Display: (3) Red LED's display switch position and power status.
Supervisory Remote Port: (1) RJ45 (F) connector accepts ASCII RS232 serial data.
Power: Connector on rear panel accepts customer supplied -48 VDC, 500 mA power input. A mating connector is included along with wiring instructions.
Dimensions: Standard rackmount, 19.0" W x 1.75" H x 8.0" D.
Weight: Approximately 4.5 lbs.
QuickSwitch® ® is a registered trademark of Electro Standards Laboratories.
Government Agencies: Contact Electro Standards for list of switches available on GSA Schedule GS-35F-0286V.
All Electro Standards switches are available for export.
Check out our complete line of QuickSwitch Fiber Optic Switches.
For custom fiber optic network switches contact our friendly sales support staff at 401-943-1164; or email: eslab@electrostandards.com.
Don't forget to order your fiber optic cables from Electro Standards.