Mutually Exclusive ONLINE/OFFLINE ST Duplex Switch
Featured Product from Electro Standards Laboratories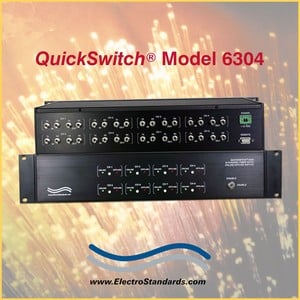 QuickSwitch® 6304 8-Channel ST Duplex Fiber Optic ONLINE/OFFLINE Mutually Exclusive Switch with RS232 RemoteSPECIFICATIONS:
PORT CONNECTORS: (4) ST fiber optic connectors provide ST Duplex IN/OUT ports to each fo 8 channels (32 ST fiber connectors total).
REMOTE PORT: (1) RJ45 female connector on rear panel accepts RS232 Serial Data for Remote Control operation.
POWER: UL approved 100VAC/240VAC 50Hz/60Hz wall mount power module supplies 12VDC 500 mA to the unit. Has 2-prong, US, non-polarized plug. Replacement power
DISPLAY: (8) Green Led's and (8) Red LED's on front panel indicate Online or Offline.
FRONT CONTROL: (8) Pushbuttons on front panel allow switching for each of the 8 channels.
DIMENSIONS: Rackmount Configuration 19.0" W x 3.5" H x 10.6" D. (48.3 X 8.9 X 27.0 cm)
WEIGHT: Approximately 7.8 lbs (3.6 kg)
MUTUALLY EXCLUSIVE 8-CHANNEL ST DUPLEX APPLICATION:
The mutually exclusive features allows only one channel to be connected at a time. The other seven channels remain in OFFLINE position. The front panel has a Keylock, which can inhibit front panel pushbutton control. The DB9 Remote ports allows control of the unit via RS232 ASCII Serial data commands.
FEATURES:
8-Channels of ST Duplex ONLINE/OFFLINE switching.
Mutually exclusive switching > Only (1) channel will be ONLINE and pass data at any one time.
The selection of a different channel will automatically FIRST disconnect prior selected channel, THEN connect the new selection.
Each channel has its own dedicated break-before-make MEMS-based mirror/prism switch technology and supports Gigabit data rates.
Position control of each of the 8-channels can be performed by eight front panel pushbuttons, or RS232 commands from the DB9 Remote port on rear panel.
Keylock on front panel inhibits/permits pushbuttons.
Remote RS232 ASCII commands allow the user to control switch position, lockout front panel operations, obtain switch status, configure power loss behavior, query firmware version number, query serial number, enable/disable autosend of switch positions.
Front panel LED's display present position.
All ports are ST Duplex, Multi-mode, 62.5/125 micron and support a wavelength of 1300nm.
The fiber ports are configured per TIA/EIA-568-B.3. where the TX of the IN port is routed to the RX of the OUT port and vice versa.
The QuickSwitch® Model 6304 8_Channel ST Duplex ONLINE/OFFLINE Mutually Exclusive Switch with Remote allows the user the capability of selecting one or none of eight channels to pass data, with remote access functionality. The switch may be controlled locally by manually operating the front panel pushbuttons or remotely from the DB9 Female Serial Interface Remote port located on the rear of the unit. A Keylock on the front panel allows complete disabling of the unit, in which all channels are switched to offline and both pushbutton and Remote commands are ignored. The QuickSwitch Model 6304 is enclosed in a 2U, full rack size, all metal black chassis designed to fit in a standard 19" rack.
QuickSwitch® is a registered trademark of Electro Standards Laboratories.
QuickSwitch® Fiber Optic Switches are available in many configurations: auto fallback, switch/converters, multimode & single mode, and secure off-line positions. Check out our complete line of QuickSwitch® fiber optic switches.
For custom fiber optic network switches contact our friendly sales support staff at 401-943-1164; or email: eslab@electrostandards.com, or complete our online Custom Product Request form.
Electro Standards can supply all your Fiber Optic Cable requirements.
All ESL products are available for export.
Electro Standards welcomes International inquiries: commutateurs à fibres optiques, interruptores de fibra óptica, switch in fibra ottica, switches de fibra óptica, fiberoptiska switcher.