RJ45 Cat5e A/B Switch, 2 Foot Legs, No Enclosure
Featured Product from Electro Standards Laboratories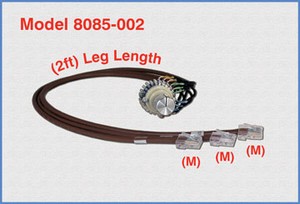 Model 8085-002 Single Channel RJ45 Cat5e A/B Rotary Switch
2 Foot Leg Length, No Enclosure
Switches all 8 pins. Allows compatibility with ALL RJ45 interfaces.
SPECIFICATIONS:
PORT CONNECTORS: (3) RJ45 male connectors labeled A, B, and COMMON.
TWO SWITCH POSITIONS: (1) Rotary switch selects COM to A, or COM to B.
PINS SWITCHED: All 8 pins are switched.
POWER: No Power required. Manually operated.
WEIGHT: Approximately, 0.3 lb. (0.2 kg)
LEG LENGTH:

2 Feet
MODEL 8085-002 FUNCTION DIAGRAM: The function diagram illustrates an RJ45 Male connector connected to two RJ45 Male ports labeled Port A and Port B. Each connector has a two foot length cable. (Custom lengths available upon request, see Model 8085-XXX)
FEATURES:
The switch ports are transparent to all data.

All (8) pins of the RJ45 interface are switched via break-before-make rotary switch.

No power required for operation.

Switch and cabled RJ45's allow install into custom enclosures.

Leg Lengths: XXX - (feet). Custom length available.

(see Model 8085-XXX)
Certified Cat 5e compliance.
COMPONENTS PROVIDED:
Rotary Switch with A/B/COM RJ45's – The switch has the RJ45's soldered and labeled appropriately. The washer and nut for installing the switch is provided on the switch.
Knob – To be installed on the rotary switch shaft to facilitate turning the switch. (P/N 502241).
Allen Wrench – The 1/16" Allen wrench provided for installing the knob (P/N 507460).
The Model 8085-002 Single Channel RJ45 Cat5e A/B Rotary Switch allows the user the capability of accessing two separate devices, ports A and B, via connection through a device connected to the Common port. The Model 8085-002 is provided as a rotary switch with cabled RJ45's for installation into any custom enclosure. No power is required for operation.
Custom Network Switches are available. Contact us by phone, email, or complete the Online Custom Products Form.

Electro Standards can supply all of your Network Cable requirements. Click here to reach our CABLES, COPPER NETWORK Webpage.