RJ45 Connect/Disconnect PoE Switch w/Touch Control
Featured Product from Electro Standards Laboratories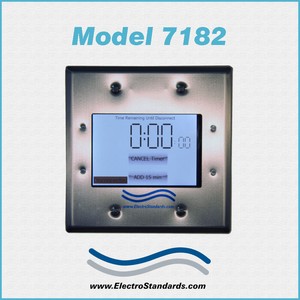 Model 7182 RJ45 Connect/Disconnect PoE Switch with Touch Sensitive Display Control & 8-Hour Countdown Programmable Timer

Ideal for Power Over Ethernet (PoE) Video Camera Network Installations.

Ideal Application: Classified/Controlled areas where wired or wireless network access is desired with a convenient user verifiable/user-controllable positive disconnect capability.
SPECIFICATIONS:
PORT CONNECTORS:

(1) RJ45 (F) labeled IN to the switch and requires PoE.

(1) RJ45 (F) labeled OUT device port.

DISPLAY CONTROLS & INDICATORS:

Touch Sensitive Display.

Displays timer in Hours, Minutes, and Seconds.

POWER:

Does not require a sepate power supply.

The power to the switch is provided by Power Sourcing Equipment (PSE) which is IEEE 802.3at Mode A compliant connected to the RJ45 IN port.

The PoE connection is in the RJ45 IN connector.

DIMENSIONS:

Double Gang Wall box Faceplate;
4.58" W x 4.5" H x 2.65" D. (11.7 x 11.5 x 6.8 cm).

WEIGHT:

Approximately 1.0 lb. (0.5 kg)
The Model 7182 is available on our GSA Schedule# GS35F0286V to US State, Local, and Federal Government Purchasers.
FEATURES:
The switch ports are transparent to all data.

All (8) pins of the RJ45 interface are switched via a break-before-make electromechanical relays.

The power over Ethernet (PoE) signal from the source device powers the Model 7182.

User controllable positive disconnect capability.

The digital display indicates countdown time in hours, minutes and seconds programmable up to 8 hours.

Default position of the switch when power is applied is in the Disconnected position.

In the Disconnected state, power and data from the PoE source device connected to the IN port, are physically disconnected from the powered device connected to the OUT port.

When the countdown timer is activated and counting down, the switch is in the Connected position, the source device is connected to the powered PoE device.

Supports PoE IEEE 802.3af and IEEE 802.3at applications.

Power Sourcing Equipment (PSE) provides power to Model 7182 via the RJ45 IN connector using Mode A (Pins 1,2 DC and Pins 3,6 -DC). See Figure 1.

Power Sourcing Equipment (PSE) provides power to externally connected devices via the RJ45 OUT Connector using Mode B (Pins 4,5 DC and Pins 7,8 -DC). See Figure 2

Supports 10/100/1000 Ethernet.

Municipalities, schools, government: This product is on GSA Schedule!
The Model 7182 RJ45 Connect/Disconnect PoE Switch with Touch Sensitive Display and 8 Hour Countdown Programmable Timer allows the user the capability of connecting/disconnecting a PoE device plugged in line between ports IN and OUT. The Touch Sensitive Display allows the user to set the connection time interval up to 8 hours and view status whether the Powered Device is connected or disconnected to the PoE Source device.
The Model 7182 provides a Touch Sensitive Display to manage connection of the Ethernet RJ45 PoE connected devices. The Model 7182 switch electronics is neatly enclosed in a dual gang wall box making it easy to install in a new or existing constructed walls. The PoE interface source device powers the Model 7182.
Model 7182 is available to government purchasers on our GSA Schedule GS-35F-0286V. Call for discounted price and terms, or click here.
Electro Standards can supply all of your Network Cable requirements.
Click here to reach our CABLES, COPPER NETWORK Webpage.
Custom Network Switches are available. Contact us by phone, email, or complete the Online Custom Products Form.
All ESL Manual Data Network Switches are available for export.