Remotely Controlled DB15 A/B/C/D Switch
Featured Product from Electro Standards Laboratories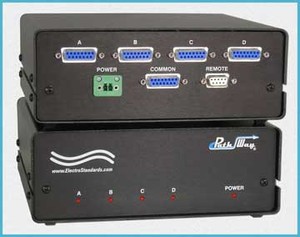 Model 7208 DB15 A/B/C/D Switch with Remote Control Port
Switching exclusively controlled by remote port.
The Model 7208 DB15 Interface A/B/C/C Switch provides switching in a compact desktop unit.
The Model 7208 allows the user the capability of sharing a single DB15 interface device connected to the Common port among four other devices connected to the A/B/C/D ports.
There is no "local" or front panel switch controls on the unit. The Model 7208 can ONLY be switched remotely from the DB9/female serial interface Control port located on the rear of the unit. The front panel LED display indicates the switch position and unit power status.
The switched DB15/female ports (A,B,C,D, and COMMON) are transparent to all data. All 15 signals of the DB15 connector interface are switches.
Features:
Switch between 4 DB15 ports via a rear-panel serial remote port.
An RS232 DB9/female remote port allows remote control of the unit based on a set of ASCII commands.
The remote commands allow change of position, query of position, and lockout of front panel controls.
The ASCII command set is as follows:

CTRL-A changes the switch position to A;
CTRL-B changes the switch position to B;
CTRL-C changes the switch position to C;
CTRL-D changes the switch position to D;
CTRL-P queries the switch position status.

Switch position and connection through the switch are maintained during power loss.
All ports are located on the rear panel: (5) DB15 Female for ports A, B, C, D and Common; (1) DB9/F Remote Port; Power jack.
Desktop Size: 7.75" W x 2.82" H x 7.25" D.
Please check out all of our Remotely Controllable Copper Network Switches.