Single Channel AC Power 120 Volt 2-Position Switch
Featured Product from Electro Standards Laboratories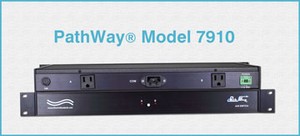 Model 7910 Single Channel 120 Volts Power A/B Switch


Specifications:
Signal Port Ratings

Max Voltage: 120VAC
Max Current: 10A

Signal Port Interfaces

(2) AC Socket (F) A/B Signal ports
(1) IEC C14 (M) Common Signal port

Signal Port Pins Switched

COMMON: Hot Neutral (IEC C14 Male)

Front Panel Control and Indicators

(2) Red LED's
(1) Pushbutton

Power Supply 516682 included with the unit.

Input: 100-240VAC, 50/60Hz, 0.2A
Output: 12VDC (regulated), 0.5A
The PathWay® Model 7910 Single Channel 120 Volts Power A/B Switch allows the user the capability of powering two seperate devices, connected to ports A and B, via connection through a device connected to the Common port.
The Model 7910 is enclosed in a 1U, full rack size, all metal black chassis designed to provide EMI/RFI shielding and fit in a standard 19" rack.
The switch position state may be attained via the front panel LED's.
Features:
IEC C14 male connector for the COMMON port.
COMMON port is power in.
AC sockets for A and B power out ports.
Power only on the port selected, with no power going to the non-selected port..
Contacts rated for 120VAC 10A current (Non-inductive load).
Not designed for inductive load.
The unit maintains last set position on power loss.
Front panel pushbutton control.
Front panel LED's display present position and power status.
Local control only. No Remote control.
Environment

Operation Temperature: 0°C to 50°C
Storage Temperature: -40°C to 85°C
Humidity: 10% to 90% without condensation

Size

Width: 19" (19" full rack size) (48.3 cm)
Height: 1.75" (1U) (4.5 cm)
Depth: 8.27" (21.1 cm)
Weight: 4.4 lbs (2.0 kg)
OPTION: WIDE RANGE POWER MODULE
(Cat No 517277) CE, RoHS and UL listed table mount power module, 100VAC/240VAC, 50Hz/60Hz in place of standard power module. Has IEC 60320 C14 inlet. Ideal for international applications. See Product Accessories Tab.
For custom network switches call our friendly customer support staff at 401-943-1164, email eslab@electrostandards.com, or complete our online form: /Products-Custom/Copper-Switch/
Electro Standards can supply all of your Network Cable requirements. Click here to reach our CABLES, COPPER NETWORK Webpage.
All ESL products are available for export.