Single Channel DB25 Switch with Automatic Fallback
Featured Product from Electro Standards Laboratories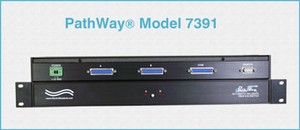 Path Way® Remotely Controllable Network Switch
Model 7391 Single Channel DB25 A/B Switch with Automatic Fallback and RS232 Remote Port
Can also switch automatically. You select the trigger signal: RD or DCD
SPECIFICATIONS:
PORT CONNECTORS: (3) DB25 female connectors labeled A, B, and Common.
FRONT PANEL CONTROL: (1) Manual pushbutton to select switch position and mode of operation to be changed.
DISPLAY: (2) Red LED's display switch position and switch mode.
and mode of operation.
REMOTE CONTROL: (1) DB9(F) connector labeled REMOTE accepts RS232 serial data ASCII commands.
POWER: UL approved 100VAC/240VAC, 50Hz/60 Hz wall mount power module supplies 12 VDC, 500mA to the unit. Has 2-prong, US, non-polarized plug.
DIMENSIONS: Rackmount, 19.0" W x 1.75" H x 8.21" D. [18.3 x 4.5 x 20.9 cm]
WEIGHT: Approximately 4.4 lbs [2.0 kg]
FEATURES:
The unit may be switched manually, remotely, or automatically.

Front panel pushbutton control.
Remote RS232 ASCII commands that allow the user to control switch position, lockout front panel operations, obtain switch status, as well as, query firmware version number, query serial number and enable/disable autosend of switch positions.
Automatic switching monitors either RD activity or DCD presence on ports A and B

The switch ports are transparent to all data.

All 25 pins of the DB25 interface are switched via break-before-make electromechanical relays.

Protective ground Pin 1 is tied together between A, B and COM.

Signal ground Pin 7 on A and B are tied to board ground for reference when monitoring signals.

The unit maintains last set position on power loss and continues to pass data.

When power is restored, unit loads previous position and mode of operation and checks DIP switch settings and Remote port to determine the correct startup configuration.
The PathWay® Model 7391 Single Channel DB25 A/B Switch with Auto Fallback and RS232 Remote allows the user the capability of sharing a single port interface device connected to the "COMMON" port among two other devices connected to the "A" and "B" ports. The Model 7391 is enclosed in a 1U, full rack size, all metal black chassis designed to provide EMI/RFI shielding and fit in a standard 19" rack.
The switch may be controlled locally by manually operating the front panel pushbutton or remotely from the DB9 Remote Control port located on the rear of the unit. The DB9 Remote port provides control through RS232 Serial Commands, and allows the user to both control and monitor the switch position remotely. The front panel LED display indicates the switch position and unit power status.
When in Automatic Fallback Mode, the unit monitors either RD activity or DCD presence on ports A and B. If activity or presence is lost on the active port, the unit checks if there is activity or presence on the other port and, in the event that there is activity or presence, the unit switches to the other port. If there is no activity or presence on either port, the unit will maintain its connection to its present port and continue to monitor both ports. The user can override Automatic Fallback operation from the front panel or Remote port and force the unit to operate as an A/B switch (Manual Mode).
Option: Wide Range Power Module: (Cat No. 517277) CE, RoHS and UL listed table mount power module, 100VAC/240VAC, 50Hz/60Hz in place of the standard power module that is included with the unit. Has IEC 60320 C14 inlet. Ideal for international applications.
TO READ THE ARTICLE: "ADVANCES IN NETWORK SWITCHES", click link to read as a pdf. You need Acrobat Reader to view this file.
For custom network switches call our friendly customer support staff at 401-943-1164, email eslab@electrostandards.com, or complete our online form:/Products-Custom/Copper-Switch/
Electro Standards can supply all of your Network Cable requirements. Click here to reach our CABLES, COPPER NETWORK Webpage.