Acoustic Testing Services
Service Detail from Element Materials Technology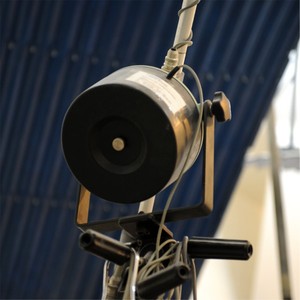 Element's acoustic testing capabilities for different industries
Element provides acoustic testing for large scale projects with a High Level, High-Intensity Acoustic Noise Reverberant Facility at Stork East-West Technology in Jupiter, Florida, which provides sound pressure data to aerospace and defense clients. For construction and manufacturing clients, Stork engineers provide acoustic testing in a specially-constructed reverberation chamber at Stork Twin City Testing in St. Paul, Minnesota.
High-Level and High-Intensity Acoustic Noise Testing
Element acoustic testing experts and NASA
Stork East-West Technology, in conjunction with NASA, designed and constructed a high intensity, High-Level Acoustic Noise Reverberant Facility in their Jupiter, Florida laboratory. The pentagonal reverberant chamber, coupled to high-output electrodynamic acoustic drivers, delivers a uniform acoustic noise spectrum over the entire frequency range. High-intensity noise is generated via two high power acoustic transducers. The facility is unique for acoustic noise testing of full-size aerospace and other industrial components at high levels of sound pressure.
Providing critical acoustic testing data to aerospace and defense
The acoustic noise generated is computer controlled through a digital closed loop control system using three high power microphones as the feedback. Data can be analyzed in 1/3 or 1/6 octave frequency bands. Microphones can be analyzed separately or averaged for differently-sized test units or control strategies.
Reverberant chambers for acoustic noise testing
In the Florida acoustic noise lab, noise spectra in the reverberant chambers have been shaped to match acoustic emissions from defense and military sources, including:
Space Shuttle launch noise specifications
Rocket launch noise specifications
Aircraft structural excitation noise
Aerospace engine noise and engine nacelle noise
Unsteady turbulent airflow noise
Other acoustic test specifications required for military and defense equipment.
Meeting military specs
Element acoustic testing experts compile and analyze the data generated in its High Level Acoustic Noise Reverberant Facility, and provide critical information and analyses to clients in aerospace, military, and defense industries. Our acoustic noise lab can help you meet your military acoustic testing specifications, such as MIL-STD-810, Method 515, "Environmental Engineering Considerations and Laboratory Tests: Acoustical Noise (Suppression & Performance)." MIL-STD-810 Method 515 is just one of many acoustic noise evaluation standards we can support.
Architectural Acoustic Testing
Acoustic testing for your products and projects
Element operates an advanced acoustic testing laboratory and employs experienced staff to provide accurate and reliable noise emission and sound emission data to our customers. Element is also one of only a handful of laboratories approved by the National Voluntary Laboratory Accreditation Program (NVLAP) for field acoustic testing (STC & IIC ratings).
Element's acoustic laboratory services
Element acoustical chambers and acoustic testing experts are qualified to evaluate in the lab:
Sound Transmission Class/Rw or STC. In Element's test chamber built from standard construction materials for accurate results, Element measures transmission of outdoor sound through windows, doors and wall constructions. This measure is used to rate the effectiveness of a material to attenuate sound. STC or Sound Transmission Class is generally defined as the decibel reduction in noise a partition can provide, abbreviated 'dB'. The dB scale is a logarithmic one and the human ear perceives a 10dB reduction in sound as roughly halving the volume - a 40 dB noise subjectively seems half as loud as a 50 dB one.
Outdoor Indoor Transmission Class or OITC. Relating to ground and air transportation noise, Element experts evaluate building facades.
Noise Reduction Coefficient or NRC. This test determines sound absorption properties of materials such as acoustical ceiling products, draperies, carpets, etc. NRC or Noise Reduction Coefficient is an arithmetic value average of sound absorption coefficients at frequencies of 250, 500, 1000 and 2000 Hz indicating a material's ability to absorb sound.
Noise Emission: Sound Power/ Sound Pressure Evaluations. Noise emissions of devices such as computer equipment, fans, pumps, or air conditioners are measured.
Noise Emission of Plumbing Appliances and Equipment. This test is designed to ISO 3822 specifications for the purpose of determining the noise emitted by faucets, shower heads, valves, and other plumbing-related equipment. Element scientists measure "Lap," or the dBA sound level produced by an appliance-a necessary rating for products marketed in Europe.
Field acoustic testing services
Element is one of only a handful of labs approved by the National Voluntary Laboratory Accreditation Program (NVLAP) for field acoustic testing. Element's field testing capabilities include:
Field Sound Transmission Class (A-STC), Sound Reduction Index (ISO 140-3), and Field Impact Insulation Class (F-IIC). These tests evaluate compliance with the Uniform Building Code for sound and foot-fall transmission through party walls, floor/ceiling systems, doors, etc. associated with multi-family housing.
Occupational Safety and Health Association. OSHA Noise Compliance
Factories and other industrial sites are tested, including dosimeter studies and consulting, to determine compliance.
Environmental Noise Assessments. Element prepares environmental impact statements for submission to local, state and federal agencies.
Field and laboratory tests. can be combined and adapted to fit the specifications of your project. As consultants, Element engineers and scientists can evaluate architectural drawings, construction sites, and industrial/business facilities.
For more information about Element's acoustic testing services, call 1-888-786-7555 or email info.smt@us.stork.com.
---