Bird Strike and Hail Impact Testing
Service Detail from Element Materials Technology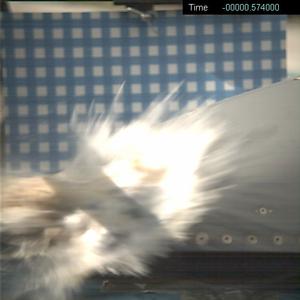 Dramatic crash and rescue
On Thursday, January 15, 2009, New Yorkers watched the crash landing of an Airways Airbus A320, Flight 1549, into the Hudson River. Miraculously, all passengers and crew were rescued from the frigid river and are safe and accounted for.
It may be some time before we have all the answers to this near-tragedy, but according to an air controllers union spokesman, the pilot reported a "double bird strike" less than a minute after take-off and asked to return to the ground, before ditching in the Hudson. The investigators will learn more when the plane is retrieved from the river in the next few days.
Danger in the air
Although modern aviation technology allow aircraft to avoid a great many storms and other dangers, bird strikes and hail still cause millions of dollars in aircraft property damage-not to mention the danger to human life. Bird strikes alone annually cause well over $600 million in damage to U.S. civil and military aircraft.
Element engineers investigate aircraft bird strikes
Element's testing laboratory in Jupiter, Florida utilizes its four air cannons to accommodate simulated and actual bird strikes at velocities up to 690 mph in testing programs for its customers. Element's bird strike/impact facility can handle bird weights from 1.5 to 6.5 pounds. Windshields, nose radomes, fuselage, wing leading edge and landing gear systems are all susceptible to Bird Strike events. High-speed video of this testing is also available to customers. The laboratory has supported defense and aerospace clients with bird strike and other product testing, environmental simulation and systems evaluation programs for over 30 years.
Bird strikes simulated in Florida laboratory
David Lichtman, Element General Manager, said, "Bird strikes pose a very serious risk to aircraft. We run our air cannons regularly for aerospace and aviation clients, continually simulating bird strike conditions to help them assess and improve the performance of their products and components. A bird strike that affects both engines is obviously still a devastating event for most aircraft. We will continue to provide this valuable service to aerospace engineers and designers, and we hope that the information we provide to them may someday result in the reduction or negation of this risk."
Element holds approvals from government agencies, major industry groups, and independent bodies. For more information about Element and its wide range of testing services to aerospace, shipboard, safety, telecommunications, nuclear, medical, military, and government industries, contact info.jupiter@element.com.
Element Jupiter is a member of the Element Materials Technology network of independent testing laboratories in the U.S. and Europe. Element Jupiter provides testing to clients worldwide, specializing in Acoustic Testing, Climatics/Environmental Simulation, Dynamics Testing, Experimental Mechanics, Failure Analysis, Flame/Fire Testing, Hail/Bird Impact Testing, HALT/HASS Testing, High Temperature/Pressure/Flow Testing, Hydraulics/Pneumatics Testing, Nuclear Qualification Testing, Product Testing, Rain/Solid Particulate Erosion Testing, Rotating/Load Simulation, Seismic Simulation, Space Simulation, and Telecommunications Equipment Testing.
Element Materials Technology is a network of independent, accredited laboratories providing testing solutions to industry throughout the U.S. and Europe. Element engineers, scientists, failure analysts, and product development and qualification experts support businesses with materials selection and engineering, materials testing, performance testing, failure analysis and consulting, nondestructive testing and inspection, calibration, construction materials testing and engineering, polymer and advanced materials testing, dimensional inspection, surface treatment, product qualification and development, and more. For more information, please visit the Element Materials Technology website at www.element.com.
---