Dynamics Testing
Service Detail from Element Materials Technology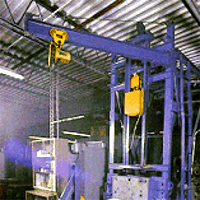 Element operates special testing facilities in Florida designed to measure and evaluate the responses of your parts or products to dynamic forces they encounter, including: vibration, acceleration, shock, structural, fatigue, and rotating load simulations.
Vibration. Element has virtually total dynamics capability. Our multi-shaker facilities utilize both electrodynamic and hydrodynamic systems with force pound ratings of up to 40,000 electrodynamic and 100,000 hydrodynamic. The 40,000 force-pound electrodynamic shaker system is comprised of an Unholtz Dickie T-4000 shaker combined with a 60-inch by 60-inch bearing slip table mounted on a 35,000 pound unibase. Element also has among its resources a 48-inch Magnesium Head Expander to accommodate larger test items in the vertical axis. This equipment, combined with our 20-foot overhead clearance, allows the testing of large/tall items with high overturning movements.
Element helps companies meet the latest Mil-Spec requirements, including:
Gunfire Simulation
Narrow Band Random on Random
Swept Sine Superimposed on Random
Helicopter Rotor Frequency Simulation
Tracked Vehicle Simulation
Acceleration. Centrifuges of various sizes and load capacities at Element range from 1-foot to 30-foot arms. This equipment is complemented by full instrumentation and power slip rings with video capability available.
Shock. Drop machines, pulse synthesis tables, and other impact equipment available at Element readily accommodate test specimens of various sizes, applying half sine, sawtooth, and square wave forces up to 100,000 g's with durations varying from 1 to several hundred milliseconds. Element experts conduct shock testing on our Navy-approved lightweight machine in accordance with MIL-S-901D, MIL-STD-810F, or individual customer requirements.
Additionally, Element is capable of various types of high level shock response spectrum simulation (pyrotechnic shock) e.g., (a) shaker-digital control; (b) metal to metal impact; (c) high velocity-pneumatically driven; (d) ordnance induced. Results can be presented in a format of frequency vs. G level or as time history plots, and can be analyzed for various "Q" values.
Field Data Acquisition. The experts at Element can provide field data acquisition of dynamic effects (stress, strain, acceleration, angular motion, dynamic imbalance), and/or environmental effects (temperature, humidity, rain, corrosive exposure). This acquired data can then be analyzed and reproduced with or without accelerated life margins factored.
Structural / Fatigue. Element has many different load frames and platforms to simulate single axial static, multi axial static or dynamic load conditions.
Cyclic fatigue tests are digitally controlled in a closed loop servo system for safety and accuracy.
Load or displacement control are available.
Displacement, strain, load, and temperature data is stored for client distribution or analyzed on site.
Real Time or simulated load profiles provided by the client can be played back through the control system as part of the fatigue testing.
Rotating Load Simulations. Element has a variety of fixed and variable speed drives systems:
Up to 1850 horse power / Up to 22,000 RPM
Electrical loads 60 Hz, 400 Hz, 1000 Amps
RPM, torque, voltage, frequency and power factors can be recorded on our high speed data acquisition systems.
Vibration and displacement can be monitored and safety controlled to protect the item under test.
Preprogrammed RPM vs load duty cycles can be accomplished utilizing closed loop control strategy.

---