Mechanical Testing
Service Detail from Element Materials Technology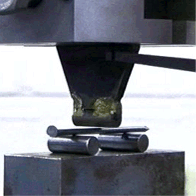 While some mechanical flaws are easy to detect, others are not. Issues such as seal deformations, component fatigue, and other complex defects require a specialized level of expertise to identify the problem and determine the cause-a level of expertise offered by Element mechanical testing services.
Combining our vast experience with advanced technology and proven methodology, Element accredited laboratories will generate the answers you need to ensure optimal product performance.
Element Materials Technology offers a comprehensive range of mechanical services that are designed to ensure products meet industry standards, perform as expected, and will last. We perform fatigue or stress rupture analysis on components or structures up to 100,000 pounds and stress durability tests on components or structures weighing as much as 200,000 pounds. In addition, we provide:
Hardness Testing including Rockwell, Brinell, standard, superficial, and microhardness testing.
Tensile Testing including wedge, axial, weld, castings, elevated temperature, machined specimens, full-size tensile and yield-plus heat
treat capabilities.
Torque Testing for lock nuts, collars, eddy nuts, boldrecess, and wrenches.
Fatigue Testing including fracture toughness, and strain or stress controlled axial fatigue testing.
Charpy Testing including subsize and standard, weld and HAZ, elevated and
cryogenic temperatures.
Bend Testing for bolts, welds, and raw materials
Proof Load Testing including tension and compression testing of nuts, bolts, components, and full products
Shear Testing for bolts
The equipment, the people
Element operates state-of-the-art machine shops that are fully equipped and dedicated to precision fabrication per specification requirements. Our extensive list of equipment includes CNC lathes, mills, stress-free grinding equipment, saws, surface grinders, and more. In addition, our highly trained staff possesses extensive experience in engineering,
mechanics, and materials science to ensure the highest quality materials evaluations.
Meeting Standards
Each Element location is a working group of specialized experts-and each lab is connected to the full resources and expertise of all other laboratories in the Element network. Your materials, your products, and your project will receive a high level of attention and response from the right team-quickly and accurately.
By identifying potential problems and flaws early, Element mechanical testing services can help to extend the service life of a specimen, component, or structure, reduce operating costs, and ensure greater operating safety..
Element view
Element customers have free access to ElementDirect, a state-of-the-art web based application that allows you to access real time status information, view test results and download completed reports, quickly and securely.
---