Ultrasonic Inspection
Service Detail from Element Materials Technology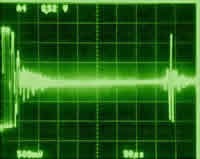 Incredibly precise, fast, and economical, ultrasonic examinations can identify and plot discontinuities, such as inclusions and laminations, in a wide variety of wrought and finished metals, as well as composite and plated items. Element Materials Technology's highly-trained staff of certified ultrasonic inspectors utilize advanced instrumentation and data reporting capabilities to quickly and accurately detect and identify flaws and measure material depth for a variety of applications and industries, including aerospace, military, and commercial. Ultrasonic testing (UT) is used in the examination of high speed rotating engine parts and full penetration groove welds and to determine material thickness. It involves the use of complex electronic equipment that is connected to one or more transducers. These transducers generate and detect high-frequency sound waves that, after being transmitted through a test specimen, bounce back to reveal defects or to calculate the material thickness.
How UT works
Because it requires access to only one side of the test specimen, ultrasonic testing is often used in situations where radiographic examination is not possible. Element Materials Technology maintains full-service ultrasonic laboratories to offer in-house, onsite, and field inspections and certifications. Whether your inspection requirements are for raw materials or fracture-critical components, they offer the equipment, expertise, and capacity for the task. Their laboratory areas feature a range of computer-controlled UT systems to accommodate inspections for test specimens of virtually any size. For example, they offer:
Turntable immersion tanks for components up to 6 feet in diameter,
A vertical ring rolling immersion system for components up to 12 feet in diameter,
Immersion tanks for plate, bar, and extrusion stock up to 36 feet long,
Tac Tic Immersion Line for pipe and bar,
Contact ultrasonic for large components, plate, bar, and field services.
In addition, Element Materials Technology's UT services include data acquisition, strip chart recording, and C-scan inspections. Ultrasonic inspection is an extremely effective method for use in field locations due to the portability of the equipment and the ability to evaluate and record results at the time of inspection. Element Materials Technology offers a full range of ultrasonic field inspections.
---