Alternative To Expensive Electric Actuators!
Product Announcement from Elliott Manufacturing Co., LLC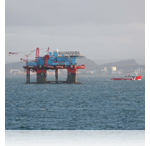 SafeOperator can be used in any industry which uses valves.
Oil, Gas, Water, Chemical, Powergen and many other process industries.
Our SafeOperator range enables speciifers, installer and maintenance personnel to quickly select the right solution for safe remote operation of any valve.
SafeOperator is a simple, reliable, robust, easy-to-install system which offers modern oil refineries and the off-shore industry a great alternative to other crude mechanical systems and expensive electric actuators.
For example, if a valve does not require frequent operation but is in a hazardous or inconvenient position then SafeOperator solves the problem
Elliott Manufacturing is the world's oldest supplier of remote valve control systems, providing global customers with world class performance for over 100 years. Keeping manpower, machinery, and methods up to date allows Elliott to handle every request with confidence and efficiency. The Elliott team works hard to ensure quality, consistency, and on-time delivery for every project.
Elliott's Uniflex -Stow system is the most versatile, reliable and proven approach to remote mechanical valve actuation available today. The Uniflex-Stow system is a unique answer to the problem of remote mechanical valve actuation.
When a valve is in a hazardous or hard-to-reach position, and must be actuated, the Uniflex-Stow system can provide a remote valve configuration that is safe, reliable, and accessible.
If you are still specifying or using out-of-date chains dual cable systems, linear systems or make-shift solid rod and universal joint systems then think Uniflex-Stow - proven, consistent, virtually no maintenance, and easy to plan and install.
SafeOperator is the most comprehensive solution for the remote mechanical operation of valves in every industry.SafeOperator remote mechanical system for the operation of valves allow every industry to locate the point of operation in a place of safety or convenience. Typically, you will use Elliott's SafeOperator remote valve technology when;
The valve is located in a physically difficult to access position or hazardous/restricted environment
When manual mechanical systems are required for reasons of back-up (redundancy and diversity) often for electric, pneumatic or hydraulic systems
The standard lever /handwheel or actuator cannot be fitted or operated due to the restricted position in which the valve has to be sited.
A requirement for operation from more than one position is specified.
The SafeOperator range features two main systems:
Flexible shaft (System FS)We also manufacture components for rigid rod system which may be an alternate solution in some applications.
Elliott Manufacturing: Over 100 Years of Remote Valve Experience
Quality, consistency, reliability count for a lot, but add in experience, and you have a true manufacturing champion.
Savvy consumers value experience. Experience means expertise - the vast repository of knowledge and understanding that only comes with long-term involvement in a particular field. In the world of heavy industry, companies want parts manufacturers that have experience, because those manufacturers know how to address the types of challenges only experience can teach.
Learn more about our Remote Mechanical Valve Control technology
---