3M™ Scotch-Weld™ Flexible Acrylic Adhesive 8600
Featured Product from Ellsworth Adhesives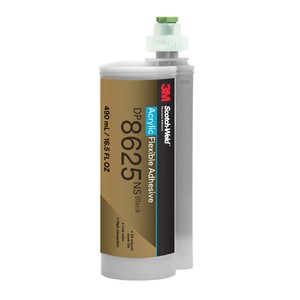 The strength of a structural acrylic. The flexibility of a sealant.
Offering a unique set of benefits, 3M™ Scotch-Weld™ Flexible Acrylic Adhesive 8600 Series provides the flexibility of a sealant combined with the strength and cure speed of an acrylic adhesive, allowing you to be more flexible in your design.
Limits bond-line read-through: Helps thin, flat surfaces maintain their aesthetic appearance.
Flexible like a sealant: For greater impact resistance.
High elongation up to 200%: Withstands stresses between dissimilar materials.
Fast, strong cure: For assembly speed and productivity.
Offers new opportunities for design: Expands what's possible.
Non-flammable classification and low odor formulation:
to help improve the working environment.

Recommended Applications
Transportation: Rail, Trailers & Specialty Vehicles
Signage & Architectural Panels
Large panel to frame assemblies