An Assortment of Sealants
Featured Product from Ellsworth Adhesives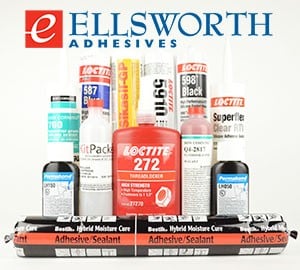 Sealants are used in multiple types of industrial and manufacturing applications. They create an adhesive barrier, blocking liquids (i.e. waterproofing), gasses, dust and other contaminants from an area. Sealants can also be used as an adhesive by giving strength to sealed substrates. Some have thermal and electrical properties, while others can be used for simple tasks such as insulating, smoothing or filling.
Ellsworth Adhesives supplies a variety of sealants in multiple chemistries including silicone, polyurethane, anaerobic and many others from manufacturers like Bostik, Dow Corning, Henkel, Permabond and Sika. Below you will find a short description of some of the most common sealants.
Anaerobic/Threadlocker
Anaerobic sealants cure in the absence of oxygen and presence of metals. They are most commonly used as thread sealants with threaded fasteners, pipe sealants and gasket materials. Activators are frequently used with anaerobic sealants.
Polyurethane
Polyurethane or urethane sealants are one of the most popular types of sealants and are widely used in transportation, marine, construction, and industrial applications. They are known for their toughness, abrasion resistance, adhesion, and ability to withstand environmental stresses.
Silicone
Silicone sealants are extremely popular materials designed to prevent liquid and contaminant migration from one area to another. Silicone sealants are relatively flexible and can absorb shock and expansion differences between substrates. They are stable and maintain their properties over a wide temperature range.
Silyl Terminated Polymer
Silyl terminated polymer sealants match the adhesive qualities of silane primer chemistry with the physical properties of polyurethane sealant chemistry. They are well-suited to applications where the sealant acts partially as an adhesive.
To discover more about sealants, contact Ellsworth Adhesives by calling 1-800-888-0698 or Ask the Glue Doctor® at ellsworth.com.