Build the Best Work Truck
Featured Product from Ellsworth Adhesives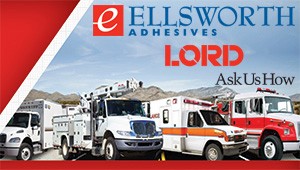 Adhesives and sealants have been used in transportation manufacturing for quite some time. Adhesives produce better performing and aesthetically pleasing vehicles with smooth surfaces that provide lower air resistance, lighter weight and better crash ratings due to the adhesives ability to act as a buffer for impact energy. Work and service truck assembly provide even more applications including sidewall and floor bonding, shelf and tool box assembly, plus diamond plate treadplate attachment. LORD Corporation develops multiple adhesives for manufacturing truck bodies. These products will improve cycle times, increase service life and throughput and reduce labor costs.
LORD's product line for Service truck assembly includes 810/20, a low read-through adhesive. 810/20 is perfect for applications where aesthetics are priority. It is a two component acrylic adhesive that has excellent peel strength, bonds to thin and flexible substrates like aluminum, plastics and rolled steel, plus cures quickly even in low temperatures (20 to 25 minute cure time). LORD® 810/20 requires little to no substrate preparation and cure time can be accelerated with a modest amount of heat (<66C).
LORD® 850 and 852 were developed to replace mechanical fastening in joint designs. They are two-part, fast curing toughened structural acrylic adhesives that cure with LORD® Accelerator 25GB. They bond a wide range of unprepared metals with minimal surface preparation and provide high strength, impact strength and fatigue resistance. LORD® 850 and 852 perform well in low temperatures and are environmentally resistant to dilute acids, solvents, greases, oils, moisture, salt spray and indirect UV exposure, which makes them perfect for applications like commercial vehicle and trailer assembly.
For applications that require direct-to-metal (including pre-coated metal) sealing or adhesion, there's 7610DTM. It's easy to apply with no sag and can be painted immediately, plus welded through wet or dry. It's a white, one component moisture curing adhesive/sealant that has no VOCs, isocyanates or Haps and has non-yellowing properties. 7610DTM also offers excellent temperature, environmental and chemical resistance.
There are many other LORD products for truck assembly, including LORD's MaxLok™ line of structural adhesives. Learn more about all of them at ellsworth.com.