Custom Specialty Chemical Packaging
Featured Product from Ellsworth Adhesives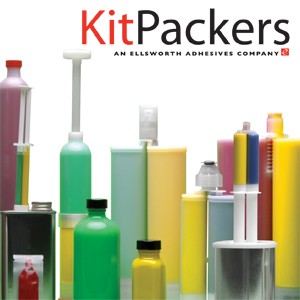 KitPackers, an Ellsworth Adhesives company, is a custom packager of one component and two component resins such as adhesives, encapsulants, sealants, coatings, greases, lubricants and a wide variety of other industrial chemicals. Packaging bulk containers into smaller, user-friendly units simplifies the use of products in the field, reduces scrap or contamination, improves quality, and provides safety and faster production due to less handling of materials by employees.
KitPackers offers multiple options for packaging chemicals including plastic cartridges (one component and side-by-side), syringes (manual and/or dual), pails, cans, bottles, tubes and jars, plus formats including MixPac cartridges (Sulzer MixPac), Semkits (Semco), Techkits (Techon), Ratio-Paks, Duo-Paks and Twin-Paks. KitPackers also offers premixed and frozen syringes and cartridges; a blending of two component systems precisely weighed, mixed, degassed and then flash frozen.
KitPackers has a number of packaging services like custom labeling, foil and polyethylene bagging to prevent contamination, vacuum and centrifugal degassing to remove air and nitrogen purging to enhance shelf-life. KitPackers is a certified re-packager of products from manufacturers including 3M, Dow Corning (including Xiameter), and Henkel. Ask the Glue Doctor™ for more information.