Dispensing Equipment from Top Manufacturers
Featured Product from Ellsworth Adhesives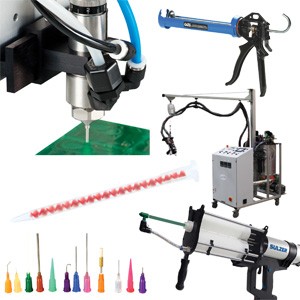 Ellsworth Adhesives specializes in providing the total solution in adhesives and specialty chemicals. This includes dispensing equipment and adhesives applicators like syringes, cartridges, needles/tips, mixers and dispensers or controllers. By working with the top manufacturers and designers of these products, Ellsworth Adhesives can provide the newest and best equipment for any application. The following is a list of some of the top manufacturers in dispensing equipment.
Cox
Cox manufactures a wide variety of manual and pneumatic hand-held applicators for one-part and two-part adhesives and sealants. The applicators are durable and simple to operate. Ellsworth Adhesives is the exclusive North America distributor of Cox hand-held dispensers.
Fisnar
Fisnar manufactures industrial robots and automated systems for the dispensing of adhesives, sealants, conformal coatings and many other fluids. These robots are engineered to work in both bench assembly operations and larger in-line processes. Fisnar also has a component system for dispensing fluids called QuantX™. Quantx™ is a carefully designed and precisely engineered group of components including syringe barrels, pistons, and end and tip caps that provide a superior dispensing experience, reduced waste and greater accuracy.
Fluid Research
Fluid Research is defining the future of meter and mixing technology with patented progressing cavity pump technology and proprietary system controls that deliver the most accurate and reliable metering mix systems for reactive plural component polymers and single component media including epoxy, polyurethanes, silicones, acrylics, urethanes, adhesives, pastes, abrasive materials and more.
PAM
PAM Fastening Technology manufactures durable and reliable hot melt applicators or glue guns for large or small quantities. PAM's hot melt tools are primarily used within the packaging, automotive and construction industries.
Semco®
Semco®, a brand of PPG Aerospace, is a leading supplier of cartridge packaging systems for adhesives and sealants. Semkit injection and barrier multi-component packages are typically used with mix ratios of 10:1 or higher and allow for thorough mixing of these difficult systems. Semco® also supplies single component cartridges and an assortment of nozzles to help you achieve optimal application results.
Sulzer
The Sulzer products line includes hand-held adhesive dispensing cartridges (manual and pneumatic), mixers, industrial coating systems, two-part cartridges, coaxial cartridges, side-by-side cartridges applicators and the innovative line of STATOMIX® static mixers. Sulzer's products work for multiple industries including energy, water and general industrial.
Ellsworth Adhesives also has a line of pneumatic guns and exclusives static mixers. These dispensing guns are durable, easy to use and convert to multiple ratios quickly. The static mixers are used to automatically mix 2-part adhesives during application. They enhance control, produce less waste, plus, the various sizes and alternating angled elements ensure consistent and accurate dispensing with products of various viscosities and cure times. To discover more about dispensing equipment, download our infographic "The Diversity of Dispensing" or contact Ellsworth Adhesives at 1-800-888-0698, Ask the Glue Doctor® at ellsworth.com.