Dissipate Damaging Heat Effectively
Featured Product from Ellsworth Adhesives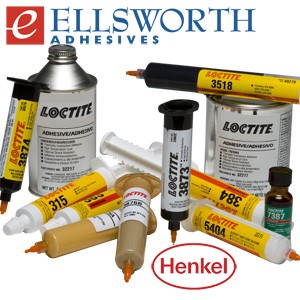 As electronic devices become smaller, stronger and faster, the need for greater thermal management (heat dissipation and control) within these devices has increased exponentially. Engineers and manufacturers are looking to new thermal technologies to make sure today's electronic products are durable, safe and have a long life-cycle. Ellsworth Adhesives provides a variety of thermally and electronically conductive materials for electronics assembly. These products include adhesive films and pastes, phase change materials and thermal absorbent films, greases and gap pads.
Adhesive Films
Adhesive films are used for the bonding of large areas or complex parts where liquid adhesives may cause issues like voids. Films create void free bond lines, controlled thicknesses and come in custom, pre-cut formats for easy application.
Adhesives Pastes
Adhesives pastes provide strong bonds and can eliminate fasteners like screws and clips, which assists in reducing the size and weight of electronic devices.
Phase Change Materials
Used in high-performance devices like CPUs and GPUs, phase change materials are solid at room temperature, but melt and flow during device operation to reduce contact resistance between metal areas and heat sink. This material can be screen printed for specific patterns and thicknesses for specific applications.
Thermal Absorbent Films
Thermal absorbent films absorb, spread, insulate and conduct integrated circuit-generated heat which can cause high skin temperature in handheld devices. They are ideal for high-density, space limited applications.
Thermal Greases
Thermal greases are preferred in high-performance applications where minimal bond line thickness is necessary. Greases offer immediate functionality upon application and are available in high-performance, high temperature reliability, silicone-free and water cleanable formulas.
Thermal Gap Pads
Thermal gap pads are used in mechanical offset applications found in almost every electronic device. Henkel thermal gap pads are designed in a range of thermal conductivity, hardness and thickness for specific processing needs.
Whatever the thermal management issue may be, Ellsworth Adhesives has a material to fit any specific application. To discover more about thermal management, contact Ellsworth Adhesives at 1-800-888-0698 or Ask the Glue Doctor® at ellsworth.com.