Increase Bond Strength with Surface Prep Products
Featured Product from Ellsworth Adhesives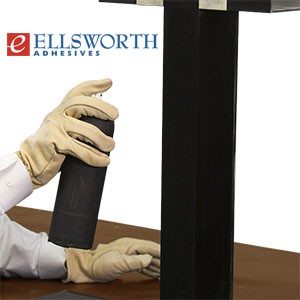 Surface preparation is key to achieving maximum bond strength when using adhesives and tapes on all types of substrates including metals, plastics, concrete and ceramics, woods and glass. Many times, a cleaning of the substrates with a mixture of water and isopropyl alcohol can significantly increase the bond strength, but when it's not enough, Ellsworth Adhesives has a variety of products to assist.
Degreasers and/or solvent-based cleaners remove oils, grease and adhesive residue from a variety of substrates, offering a clean, dry surface to adhere. When using degreasers or cleaners, be sure to follow with an isopropyl alcohol/water mix to remove any cleaner that is left behind.
Protective sealants work with porous substrates such as wood, ceramic and cement to create a smoother surface for better bonding. Common sealants include varnish or paint. Sealants also protect from dust, moisture and other environmental elements.
Primers, activators and accelerators significantly improve adhesion strength and cure speed for multiple/dissimilar substrates. They can also boost the adhesive longevity in different environments such as cold, heat or humidity. Most can be applied with a brush or come in a spray form for easy, fast application.
Make sure to test the degreasers, cleaners, sealants, primers, activators and accelerants on your substrates to ensure they do not cause damage or discoloration. For questions about what surface preparation technique might be best for your application, go to ellsworth.com.