Label And Documentation Experts
Product Announcement from Ellsworth Adhesives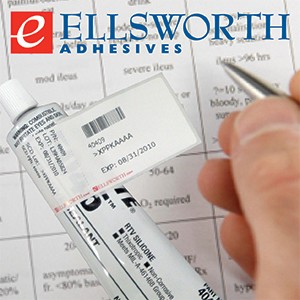 Ellsworth Adhesives' ability as label and documentation control experts allows us to work with our customer to improve their quality control and ultimately save the end-user both valuable time and money.
Customer Part Number, Customer Name, Expiration Dates, Lot Number Specification References, Storage Information, Shelf-Life Period, PO Number. In addition to those labeling capabilities, our documentation expertise allows us to offer:
Traceability by Lot Number (Bar Coded/Lot Tracked Inventory) Shelf-Life Control (Computerized Warehouse Management System) Reference Customer Part Number on Certs and Labels Document Lot Numbers throughout EA System Mil-Spec Capabilities and Documentation Certificate of Conformance Capabilities and Documentation Certificates of Origin (NAFTA) SDS and Tech Data Specialists Bar Code Labeling Available for Customer Orders SDS and TDS Capabilities Ellsworth Adhesives currently maintains a web-enabled database for our entire library of SDS and TDS documents. This database is accessible to all Customer Service Representatives and Sales via the Ellsworth Adhesives intranet. We will also be launching an online SDS and TDS database accessible to all Ellsworth.com users. In the near future you will be able to search for SDS/TDS Documentation for Ellsworth Adhesives' products from your own computer.
Warehouse Management System (WMS) In early 2001, Ellsworth Adhesives installed a fully automated warehouse management system called Latitude. Since then, we have been adding features and increasing our utilization of the system including a Kanban (VMI) module. These enhancements have had positive, quantitative results on our internal efficiencies and quality while allowing us to proactively provide value-added customer services.
Currently, all of the items in our corporate warehouse are bar coded and tracked through the Latitude WMS system. This system includes many checkpoints that require verification of inputs, resulting in higher quality outputs. An inherent feature of our WMS allows us to control inventory by item, lot/batch and shelf life. Since Latitude is web-based, anyone with access to the system has instant, real-time visibility to all aspects of inventory and specific order status. We are also able to provide ship notification for any customer, every order.
Another feature of the system is the capability to print automatic shelf life certifications for our customers who require this documentation. Since all of the relevant shelf life information (date of manufacture, date of receipt, shelf life period, expiration date, etc.) is entered for lot-tracked items, the Latitude system can print Ellsworth's Shelf Life Certification automatically after the packing list is printed.
As students of LEAN, we have applied RPI events to nearly every process within our Distribution Center including Receiving, Order Pulling, Packing and our Documentation/Labeling area. We are fully committed to our LEAN journey as we continue striving for continuous improvement.
As a result of process improvement efforts, we are in the final stages fully integrating our WMS with our system of SDS and Technical Data Sheets (TDS). Once complete, it will allow us to automatically print the most up-to-date SDS or TDS for every customer, every order.
---