Lubrication Solutions for Manufacturing
Featured Product from Ellsworth Adhesives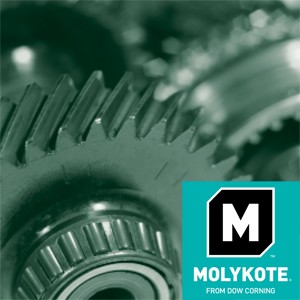 To keep equipment moving smoothly and prevent seizing or corrosion, Ellsworth Adhesives recommends Molykote® brand products from Dow Corning. The Molykote® product line consists of anti-seize pastes, anti-friction coatings, industrial greases and silicone compounds.
Anti-seize pastes offer durable wear protection and water washout resistance with keeping a consistent coefficient of friction (CoF). They are reliable across a wide range of temperatures. Used on threaded connections, aid in non-destructive disassembly and reduce connection failure.
Anti-friction coatings offer a dry, clean lubrication that does not collect dust, dirt or moisture. They provide resistance to rust and corrosion without evaporating or oxidizing. Anti-friction coatings work under extreme loads and operating conditions and are fully effective as start-up lubrication, even after prolonged shutdown.
Industrial greases are used in applications including gears, bearings, conveyor systems, slides, drives, pumps, valves and shafts. They perform well in a wide range of temperatures (from 180? C to -40? C) and have resistance to chemicals like solvents, fuels and acids. Industrial greases also have good corrosion protection with resistance to moisture, oxidation and water washout.
Molykote® silicone compounds have multiple uses including release agents on plastics and elastomers, O-ring assembly lubricants, valve packings and seats, plus dielectric moisture barriers on electrical equipment, as they do not conduct electricity. They are used as both a sealant and lubricant, and are certified NSF 61 for use in food and beverage applications.
For more information or questions about Molykote® or other lubrication products available, please contact Ellsworth Adhesives by calling 1-800-888-0698.