NEVER-SEEZ® Regular Grade Lubricant
Featured Product from Ellsworth Adhesives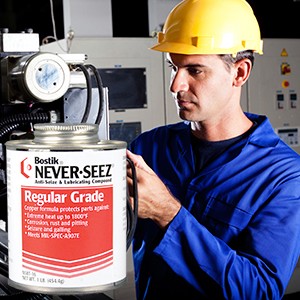 Never-Seez® Regular Grade is a superior, antiseize and extreme pressure lubricant from Bostik formulated to protect metal parts against rust, corrosion and seizure. Fine metallic and graphite particles in a special grease protect parts even in high heat, high pressure and corrosive environments.
Product Benefits:
Keeps parts working longer with less wear.
Minimizes parts replacement costs.
Enables faster disassembly when repairs are needed—even after exposure to high temperatures.
Protects against carbon fusion.
Resists alkaline solutions, most chemical and acid vapors, road salt, steam, salt water, iodized water.
Prevents galling on steel to stainless steel, titanium, magnesium, and other hard metals.
Applications:
Nuts, bolts, screws
Shafts
Pipe fittings
Gaskets
Boom guides
Press fit assemblies
Valve assemblies
Taps and drills
Pump mountings
Packing glands
Chain drives
Metal fittings
Machinery