Protect Electronics with Thermal Management
Featured Product from Ellsworth Adhesives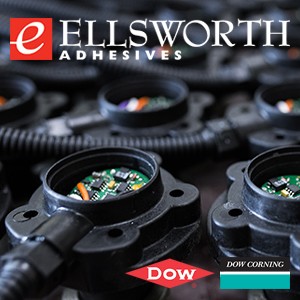 Thermal management is a significant issue when designing electronics for all industries. Luckily, Dow Corning has developed a line of thermal conductive adhesives, encapsulants, dispensable thermal pads and thermally conductive gap fillers that assist in solving these problems in the transportation, aerospace, appliance, medical and consumer electronics markets.
TC-2030
TC-2030, a thermally conductive adhesive, was specifically designed to provide thermal management in automotive electronic modules. It reduces thermal resistivity with a thermal conductivity of 2.7 W/mK with exceptional performance at medium to high bond line thicknesses.
TC-2035
TC-2035 is a thermally conductive adhesive with a thermal conductivity of 3.3 W/mK at a bond line thickness as thin as 50 µm and sustains reliable performance at temperatures reaching 200°C. It was designed for heat management in high-power, next-generation automotive electronics applications.
TC-4525
TC-4525 is a thermally conductive gap filler designed not only dissipate heat, but dampen vibration as well. It holds vertical position both cured or uncured, has a glass bead option for bond line thickness control and works well in metered mixing and automated dispensing equipment. TC-4525 is UL 94 V-0 certified.
TC-4605
TC-4605 is a thermally conductive encapsulant used to protect electronics from environmental conditions. It has a thermal conductivity of 1 W/m·K and its softness allows it to act as a buffer for wire and components.
Whatever the thermal application may be, Ellsworth Adhesives has a material to fit any specific application. To discover more about thermal management, contact Ellsworth Adhesives at 1-800-888-0698 or Ask the Glue Doctor® at ellsworth.com.