Resources for Building Batteries
Featured Product from Ellsworth Adhesives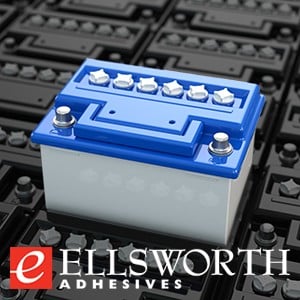 As electronic devices become smaller and more portable, the batteries within these devices must do the same. There are multiple issues within the manufacturing of batteries that adhesives and specialty chemicals can resolve including thermal management, electrical conductivity, heat dissipation, potting and sealing. Ellsworth Adhesives has found multiple resources (listed below) to help build the best batteries.
Material and Design Enhancements are Driving Electrical Vehicle Innovation: This blog by Gino Mariani from Henkel discusses the new chemistries and advancements in specialty chemicals available for the electric vehicle industry.
Electric Vehicles – Adhesives & Sealants: This web article from H.B. Fuller discusses the latest adhesives and sealants available for lithium-ion batteries for electric vehicles.
Solutions for Today's Electronics: 3M's brochure Solutions for Today's Electronics includes products for shielding, absorbing, grounding and bonding electronics.
After reading these articles, contact Ellsworth Adhesives for any questions or to discover more about these products.