Sikaflex®-232
Featured Product from Ellsworth Adhesives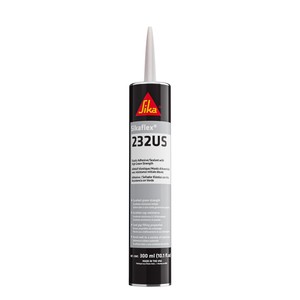 Sikaflex®-232 US 1-component, thixotropic, polyurethane adhesive/sealant that exhibits a high initial green strength. It adheres well to a wide variety of substrates and cures on exposure to atmospheric moisture.
Sikaflex®-232 US is suitable for sealing and simple bonding applications where high green strength is required to improve the assembly process such as trailers, RV's, industrial assembly, and HVAC units. Sikaflex®-232 US adheres well with the most common substrates in these applications such as metals, metal primers, and paint coatings (2-component systems), fiber-reinforced plastic (FRP), and wood.

Seek manufacturer's advice and perform tests on original substrates before using Sikaflex®-232 US on materials prone to stress cracking.
Sikaflex®-232 US is available in 300 ml cartridges and 600 ml unipacks and in the color white.