Sikaflex®-252 Non-Sag Polyurethane Assembly Adhes.
Featured Product from Ellsworth Adhesives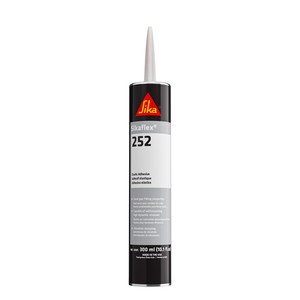 Non-Sag One Component Polyurethane Assembly Adhesive
Sikaflex®-252 is a 1-component, moisture-cured, polyurethane adhesive with extremely high thixotropy and high strength. Sikaflex®-252 is particularly suited to bonding applications in the manufacture of transportation and other industrial markets.
Sikaflex®-252 is suitable for structural joints that will be subjected to dynamic stresses. It bonds well to a wide variety of substrates including wood, metals, particularly aluminum, sheet steel (incl. phosphated, chromated and zinc-plated components), metal primers and paint coatings (2-c systems), ceramic materials, and plastics. Sikaflex®-252 can be overpainted and is non-corrosive. It is also NSF registered for proprietary substances and nonfood compounds.
Sikaflex®-252 is available in 300 ml cartridges, 600 ml uni packs, and 53-gallon drums and in the colors black and white.