Tips on Tips
Featured Product from Ellsworth Adhesives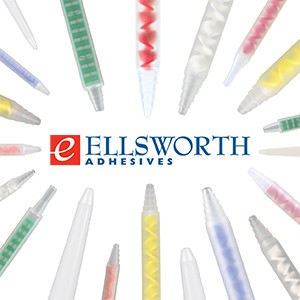 In industrial bonding applications, nozzles and static mixers provide an accurate, clean and simple way to apply adhesives and specialty chemicals. Nozzles are used with one-part materials. The tip can be cut to provide the preferred bead size. Nozzles can come in multiple diameters and lengths with different characteristics like bendability for awkward areas or a flat dispensing end for a spread out bond line.
Static mixers are used with two-part adhesives. They consist of a plastic tube with alternating, angled elements within the tube, mixing the materials while it's dispensed offering a consistent product and eliminating manual mixing. Static mixers also come in various sizes with different amounts of elements due to adhesive variables like viscosity, cure rate and mix ratio. Combining these tips with a manual or pneumatic dispensing gun increases the speed and accuracy adhesives are applied.
Ellsworth Adhesives supplies nozzles and static mixers from multiple manufacturers including Fisnar, PPG Industries, Sulzer, TAH, Techon, and many others including Ellsworth Adhesives own line of static mixers. Discover more about static mixers, nozzles and more dispensing equipment at ellsworth.com.