Versatile Tapes for Manufacturing
Featured Product from Ellsworth Adhesives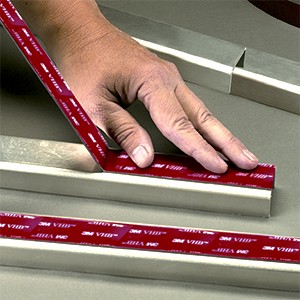 Tapes are becoming increasingly more popular within the manufacturing process. This is due to their overall strength, durability and their ability to increase productivity and simplify the assembly process. Tapes also benefit the appearance of products keeping surfaces smooth and clean, bonding to most painted and powder-coated surfaces.
Some varieties of tapes are strong enough to replace rivets, screws and spot welds. They provide a continuous bond distributing stress over the entire surface, instead of intermittent areas. The viscoelastic properties of tape also absorb shock and flexing for reliability against wind and vibration.
Tapes offer long term durability in multiple environments. They resist temperature fluctuations, UV light and seal against moisture and other environmental conditions. Some tapes are able to perform at temperatures ranging from 450?F to 540?F making them perfect in the manufacturing of automobiles (under the hood, brake pad assembly, labeling, lighting), battery pack assembly, printed circuit boards and flex circuit assembly.
Ellsworth Adhesives provides multiple forms of tapes including single and double coated, VHB™, structural, transfer, foil, foam, and packaging from 3M, STM, Bergquist and Sika. To discover more about the versatility of tapes and the different types available, contact Ellsworth Adhesives by calling 1-800-888-0698 or Ask the Glue Doctor® at ellsworth.com.