Who is the Glue Doctor®?
Featured Product from Ellsworth Adhesives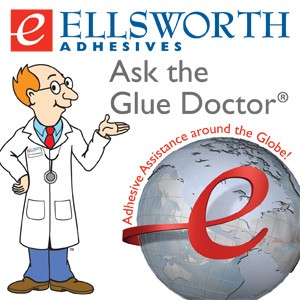 The Glue Doctor® represents Ellsworth Adhesives' unique capability to help customers find the best assembly solution. This includes Engineered Sales Representatives (ESRs) and Technical Service personnel readily available to analyze a client's needs, processes and constraints. They are able to assist in sourcing potential materials like adhesives, specialty chemicals, dispensing and curing equipment, help set-up and test for suitability and stay engaged after the material selection to make sure the process is running smoothly and efficiently. Glue Doctors are also available to inform and educate clients on new technologies that can make their assembly process faster and end products better.
The Glue Doctor® is available around the globe with over 55 ESRs and Technical Service representatives in North America and over 100 others throughout the rest of the world including Brazil, Europe, China, India, Malaysia, Thailand, Vietnam and Australia. This provides seamless project management for multi-location and multi-national clients. To contact one of the Ellsworth Adhesives Glue Doctors, call 1-800-888-0698 or chat online at ellsworth.com.