Emerson Air Particle and Oil Mist Detector
Product Announcement from Emerson/Rosemount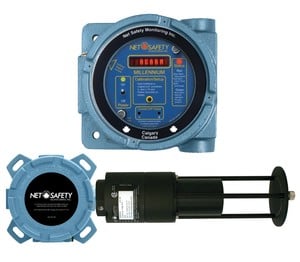 The Millennium Smoke and Oil Mist Detector's advanced sensor technology utilizes a powerful, single-beam IR lamp with no mirrors to ever be contaminated. Sensor performance is not effected by high volume air velocity. Field adjustable zero level of obscuration as well as multiple sensitivity settings allows for fine tuning within specific application conditions to optimize performance and eliminate false alarms.
The Millennium Series controller is an innovative line of explosion-proof industrial detectors. It's microcontroller provides fast, accurate and continuous monitoring in hazardous area environments. The compact controller with power disconnect switch simplifies maintenance, a scrolling LED simplifies calibration and configuration, meter jacks for easy current loop monitoring and optical self-test. The industrial micro-controller based circuits are conformally coated for mold and humidity protection.
The Net Safety Millennium Air Particle and Oil Mist Detector is market proven within a variety of application worldwide, providing superior performance and effectiveness.
• Explosion-proof, Class 1, Division/Zone 1 Approved
• 2nd Generation Infrared Optical Sensor Technology
• Sensor performance not effected by air velocity
• Field adjustable zero level of obscuration and sensitivity settings
• Operating Temperature Range -40°C to +85°C (-40°F to +185°F)
• Analog or Relay Output Confi gurations
• Remote Sensor Separation - 2000 feet
• Intiutive Menu System, Calibrations 90 Seconds From Start to Finish
• 10.5 to 32 V dc Operating Voltage
• Multi-language, Bright Scrolling LED Display
---