Millennium II BASIC Single Channel Transmitter
Product Announcement from Emerson/Rosemount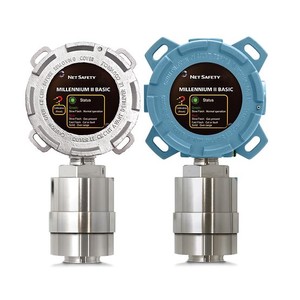 The Millennium II Basic (M2B) universal transmitter is a robust and reliable safety solution delivering highly accurate monitoring of toxic and combustible gases. Utilizing our state of-the-art sensor technology, it provides a flexible detection platform that includes all the advanced features users in the field demand with complete ease-of-use and operation.
Compatible with ST3 and SC3 series sensors (Infrared, Catalytic Bead, Electrochemical)
-67 °F to +185 °F (-55 °C to +85 °C) -58 °F to +185 °F (-50 °C to +85 °C) North American explosion-proof certification
Lowest power consumption available
Wide voltage range allows for greater stability and system compatibility
Nonintrusive menu system, simple set-up and calibrations via external magnet
Field selectable gas curves and ranges
Long range (+600 m/2,000 ft.) sensor separation through digital communication between transmitter and sensor
Streamlined Controller Design
Designed for applications that require a local, full-featured transmitter interface but do not require a character display. The Millennium II Basic includes a bright multi-colored LED indicator for Power/Alarm/Fault conditions with an optional HART® interface.
Universal Transmitter
A truly universal transmitter, the M2B can be fitted with a full range of both toxic or combustible gas sensors. The Millennium II sensors are pre-calibrated and easily connect to the transmitter which automatically recognizes a newly fitted sensor and uploads its specific configuration profile.
Digital Communications
The sensor and transmitter continuously communicate digitally, giving you the confidence of stable, accurate protection with fast response times even over long separation distances.
Global Certifications
The Millennium II Basic is approved to international hazardous area safety standards for operation and performance.
Analog, Relay, Modbus® RS485 RTU & HART®
Multiple communication protocols allow the M2B to work seamlessly with your new or existing system.
Field-proven Sensor Innovations
Our sensors are engineered to be fast and reliable with fieldproven performance in the harshest industrial conditions. Sensors include electrochemical, catalytic bead with SensorGuard, which greatly prolongs sensor life, and point infrared. The infrared sensor offers a dual beam design with no mirrors, which increases the sensor's resilience to dust or other debris.
---