Combo Strain Gage Amplifier: Model 665
Product Announcement from Encore Electronics, Inc.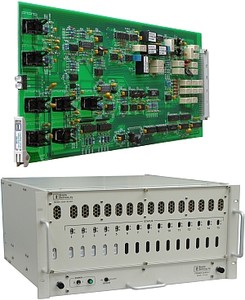 The Model 665 is a two-channel computer-controlled strain gage amplifier module. The two channels have independent gain and filtering for simultaneous static and dynamic strain outputs from a single bridge. The following parameters are displayed and are adjustable: gain, zero, external cal, filter, bridge mode, shunt cal, excitation. Bridge autobalance is triggered via computer interface. Requires the Model 5020-102 rack described below.
MODEL 665 SPECIFICATIONS
Amplifier channels: Channel A is AC coupled with variable gain and filter; Channel B is DC coupled with fixed filter; Channel A may be DC coupled
Channel A gain settings: Fixed log steps 1, 2, 5,10, 20, 50, 100,
200, 500, 1000, 2000, 5000
Channel B gain settings: 1 or 100
Gain accuracy: ±1%
Offset: Automatic zero adjustment of DC-coupled channel, <5mVDC
Frequency response: Channel A: six-pole Butterworth lowpass, selectable at 5kHz, 20kHz, 40kHz or bypassed; 5Hz highpass, single pole. Channel B: four-pole Butterworth lowpass at 11Hz
Bridge mode: ¼ bridge, ¼ bridge three-wire, ½ bridge, or full bridge with 120W and 350W internal completion resistors; EMF mode disconnects completion, balance, and excitation
Excitation: Excitation source isolated from amplifier output common; constant voltage, programmable from 1.0-15.0VDC; up to 100mA available; short-circuit current limited to under 40mA
Bridge balance: Autobalance initiated from control webpage; coarse and fine 12-bit DACs apply balancing current to +S leg of bridge
Shunt calibration: One of four precision cal resistors applied from -P to -S; 11.88k, 19.88k, 49.00k, 99.00k
Fault indication: One green LED per channel turns red if amplifier exceeds ±10V; both LEDs turn red if bridge autobalance cannot be completed
Memory: On-board EEProm stores serial number, calibration date, etc.
Mechanical: 5.5" x 13.5" board, used with 5020-102 rack

MODEL 5020-102 DESCRIPTION
The Model 5020-102 rack adapter offers complete remote control of all signal conditioner settings through an industry-standard Ethernet interface and remote web browser. No additional software needs to be installed to operate the system. In addition, the rack can be controlled by other software (such as LabView) via the Ethernet interface. The rack can accommodate a range of signal conditioning modules.
The Model 664 module is available for dynamic strain applications and the Model 665 combo module for static and dynamic measurements. For accelerometer inputs use the Model 176 dual charge amplifier module. Modules for other inputs such as pressure are offered.
All amplifier settings are stored in non-volatile memory in the rack, and restored at power-on. The rack uses an internal DC measurement system for its autozero and autobalance operations.

MODEL 5010-102 SPECIFICATIONS
Front panel controls: Power on/off switch and indicator; amplifier common isolate/ground switch

Module slots: 15 slots for signal conditioners, plus one slot on left side for rack controller

Rear panel connectors: 5 PT02A14-18S signal input (one per three slots); BNC analog output; BNC external calibration signal input; BNC mux signal output; Ethernet RJ45; RS232 nine-pin D male

Dimensions: 19" wide, 8.75" (5U) tall, 18" deep (plus handles and mating connectors)

Weight: 46 pounds with 15 amplifiers installed (shipping weight)

Power: 115VAC 50/60Hz, 150VA; 230VAC optional
---