Chimney Automation Green Sustainable Vent Design
Product Announcement from Enervex, Inc.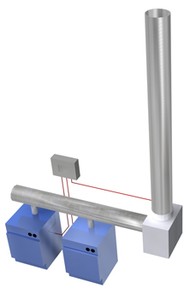 The CASI, Chimney Automation System™ is a demand controlled exhaust system designed for commercial boilers and water heaters in buildings where the exhaust is powered by an inline power venter installed insdie a building. It maintains a precise draft by constantly adjusting the exhaust rate to meet current needs. The concept can provide substantial operating savings over gravity systems and offer significantly better draft control which reduces emissions.
The CASI System can be combined with an MCAS, Modulating Combustion Air-supply System™ and can also work with a MODS, Modulating Over-draft Damper System™
Sustainable Advantages
Economical. Over a 15-year period a typical demand-controlled CASI-system serving 4 high-efficiency boilers in a 20-story building costs 50% less to operate than a combined system without demand-control. Most of these savings are energy savings due to boiler-efficiency improvements.
Energy Savings. A demand-controlled mechanical draft system provides more precise draft control so the O2 levels can be lowered. This can lead to annual savings of 2-4% and reduce emission dramatically.
Material and Labor Savings. Combining chimney flues and reducing diameters save material and labor when using a demand-controlled mechanical draft system. Smaller chimneys are easier and less expensive to install.
Space Savings. Combining chimneys and reducing diameters save buildings space. A small footprint can save as much as $15,000 worth of space in a 20-story building. Even more space can be saved by redirecting the chimney out through a sidewall.
Aesthetics. Today's buildings are designed to be functional and attractive. While the EXHAUSTO demand-controlled mechanical draft system provide great space savings, it can also keep chimney terminations out of sight.

Other benefits of installing a CASI system include:


Extremely low noise level
Priority Operation Function and Bearing Cycle Activation
Interlocks 6 appliances (standard) or as many as necessary with add-on boards.
Easy programming of essential functions (80 parameters are programmable for customized solutions).
SS316L and aluminum impeller for use with Category I, II, III and IV appliances (condensing and noncondensing).
Maintain low emissions, including NOx.
Spark-resistant construction with TEFC-motor with direct drive and true variable speed (inverter duty).
Listed to UL378, Standard for Draft Equipment and CSA3-B255-M81 for Mechanical Flue Gas Exhausters.
Maintenance free and service-friendly design.
---