EcoFlex90+ Modulating Fan-Powered Economizer
Product Announcement from Enervex, Inc.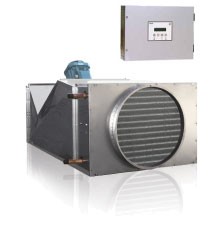 EcoFlex 90+ - a packaged modulating fan-powered economizer - may be the single design that combats all the challenges in the typical economizer. It opens the energy recovery up to practically any combustion appliance application.

With the EcoFlex 90+ system the designer can now view the application as a complete "boiler plant" as the full load to work with, instead of one economizer per boiler. And the "boiler plant" can consist of a combination of boiler types such as forced draft boilers and atmospheric water heaters that utilize a single modulating demand-controlled economizer.

And what is even better - all boilers will always have the perfect draft conditions due to the variable speed boiler fan controlled by a modulating fan controller.

The bottom line is: design flexibility, reduced emissions, improved boiler efficiency, high return on investment.
If you want to learn more about Modulating Fan-Powered Economizers vs. Traditional Economizers, read this article.
Benefits of the EcoFlex90+ Packaged Modulating Fan-Powered Economizer:
Single EcoFlex90+ system for single and multiple boilers.
For atmospheric, fan-assisted or forced draft boilers - or any combination.
Always perfect boiler draft conditions.
Variable or constant water flow.
Reduces and maintains low emissions, including NOx.
Spark-resistant construction with TEFC-motor with direct drive and true variable speed (inverter duty).
Easy programming of essential functions (80 parameters are programmable for customized solutions).
Easy upgrade, fast payback!
---