MBESV, Modulating Building Exhaust System™
Product Announcement from Enervex, Inc.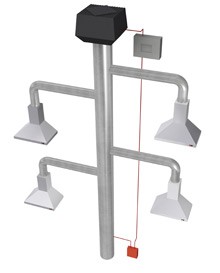 The MBESV, Modulating Building Exhaust System™ is a demand controlled ventilation system designed specifically for multi-story buildings that have kitchen hoods, bathrooms or clothes dryers on multiple floors. Unlike traditional exhaust systems that operate at full speed 24/7, the demand-controlled ventilation system senses when no appliances are running and operates at a very low speed. Once the appliance starts, the internal appliance fan creates pressure inside the duct which make the control increase fan speed.
This system is similar to EXHAUSTO's MBES and MDVS systems but utilizes an EFV Exhaust Fan with vertical discharge. The EFV is a ruggedly designed fan build in cast aluminum.
The MBESV system is extremely suitable for retrofitting.
Sustainable Advantages
Economical. Over a 15-year period a typical demand-controlled EXHAUSTO-system serving 8 kitchen hoods costs 55% less to operate than a fixed speed CAV system. In addition it saves up to 85% of the cost of exhausted conditioned air.
Energy Savings. A typical kitchen or bathroom exhaust system operates less than 30% of the day. A demand-controlled exhaust system converts this into energy savings of 85% - this could amount to annual savings of $500 per kitchen hood and $200 per bathroom.
Quiet Performance. A well-balanced demand-controlled ventilation system eliminates constant fan noise and noise from speed variations.
Material and Labor Savings. A demand-controlled ventilation system can take 100% advantage of diversity, reducing duct sizes and thus material and labor. In addition multiple main ducts can be exhausted by a single fan.
Space Savings. Using diversity saves floor space as small ducts add open building space. One square foot per floor in a 20-story building can amount to as much as $5-10,000 per duct riser.
Aesthetics. Architectural discharge vents, which collect grease and dirt, are located on the wall which makes them very difficult to clean. Because the demand-controlled system discharges on the roof, it eliminates this problem.
Reliability. With EXHAUSTO's variable speed, direct-drive fans, broken belts are a thing of the past.

Other benefits of installing a MBESV system include:
Easy programming of essential functions
Spark-resistant construction with TEFC-motor with direct drive and true variable speed.
Listed to UL705, Standard for Power Ventilators
---