Electrolyzers & Fuel Cells
Featured Product from Engineered Materials, a subsidiary of PPG's aerospace division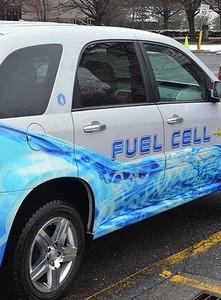 Electrolyzers & Fuel Cells
Dexmet materials are utilized in PEM and SOFC fuel cells as current collector electrodes, catalyst substrates, and gas diffusion layers. Fuel Cells typically use expensive materials like niobium, zirconium, titanium and nickel to counteract the corrosive environment inside the cell to maximize the cells lifespan. The expansion process is the most cost effective way to produce an open area product from the expensive materials. Dexmet helped create one of the first uses for expanded materials in an electrolyzer for a PEM fuel cell over 40 years ago. Dexmet sees itself as a partner to it's many clients and is at the forefront of development for open area products in fuel cells. We understand the technology and can help our clients bring their products to market.
Watch>>>Working With Dexmet: Applications
Expanded Solutions for Engineers with Tough Applications
PPG expanded metal foils and polymers are use by some of the world's most recognized companies. Dexmet Corporation is now part of the PPG Aerospace family.
The Right Material for Your Application
Our versatile expanded metal foils and polymers are used by Fortune 500s and leaders across many different industries. When developing applications that require micro-mesh open area materials, developers and engineers turn to Dexmet for the technical experience needed to shorten the development cycle and provide the best performing, highest quality, and most cost-effective products.
We outperform the competition and ensure that our products meet our customers expectations for performance and precision. Our processes are monitored by a AS9100:D and ISO 9001:2015 quality control system to ensure a great product at a great price.