How Expanded metal mesh enhances batteries
Featured Product from Engineered Materials, a subsidiary of PPG's aerospace division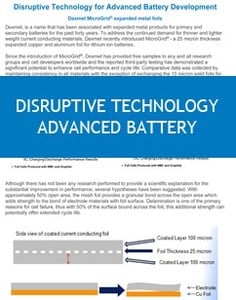 How Expanded Electrode Materials Enhance Advanced Batteries
Expanded metal mesh used in place of the solid foils provides greater surface area per unit weight of metal in the battery. This results in better adhesion of the electrode layers and higher ion transport rate, thus greater energy density capability.
Dexmet has developed machines that can expand aluminum and copper foils down to 25 microns (.001") providing an opportunity for secondary battery developers to utilize expanded products in their battery designs and realize the performance enhancements an open area product can provide. By incorporating MicroGrid materials, battery developers can enhance battery performance:
Increase cycle life

Decrease internal resistance associated with cycling and age

Improve battery capacity
The Advantages of MicroGrid® Series 25
Utilizing an open area product will enhance the performance of the secondary battery cell. Dexmet's MicroGrid® 25 can offer a number of performance advantages over solid foils.
Increased Capacity at Higher C-Rates
The open area of the MicroGrid allows for more active material per thickness of the anode layer.
Reduced Capacity Fade
The porous foil allows lithium ions and electrolyte to completely saturate the multiple layer within a cell
Increased Battery Life
Better chemical bonding to the electrode using an open area product extending battery cycle life
Follow us on:
Watch>>>Working With Dexmet: Applications
Expanded Solutions for Engineers with Tough Applications
PPG expanded metal foils and polymers are use by some of the world's most recognized companies. Dexmet Corporation is now part of the PPG Aerospace family.
The Right Material for Your Application
Our versatile expanded metal foils and polymers are used by Fortune 500s and leaders across many different industries. When developing applications that require micro-mesh open area materials, developers and engineers turn to Dexmet for the technical experience needed to shorten the development cycle and provide the best performing, highest quality, and most cost-effective products.
We outperform the competition and ensure that our products meet our customers expectations for performance and precision. Our processes are monitored by a AS9100:D and ISO 9001:2015 quality control system to ensure a great product at a great price.