MicroGrid® Lightning Strike Material
Featured Product from Engineered Materials, a subsidiary of PPG's aerospace division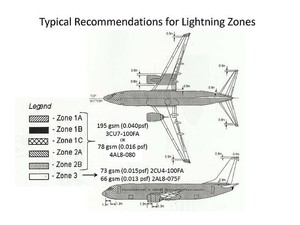 Aircraft Lightning Strike Protection Our copper and aluminum MicroGrid® materials protect composite aircraft surfaces and rotor blades from lightning strikes.
How Dexmet Lightning Strike Materials Protect Carbon Fiber Aircraft Surfaces
Aluminum has been the principal material used in aircraft and aerospace construction for the past 70 years. With the growing interest to construct more efficient aircraft, manufacturers are designing more components out of light-weight composite materials. The new generation of aircraft utilizes carbon fiber for major structures including the fuselage, wing, engine nacelles, flaps, wing tips, and even rotary blades and fuselage on helicopters. Composites, however, are poor conductors of electrical current. Without proper protection, they are susceptible to severe damage in the event of a lightning strike. When Dexmet expanded aluminum and copper MicroGrid® materials are incorporated into the surface of these composite structures, the lightning strike energy is dissipated over the surface of the component, which prevents damage to the composite material below.
MicroGrid® precision expanded metal foils from Dexmet are the materials of choice for lightning strike protection in composite aircraft structures. We've been developing the technology for the last 30 years with all major aircraft OEMs and we have the most configurations available in the industry. Dexmet is the preferred supplier on many of the new generation designs for Airbus, Boeing, Bombardier, Embraer, and the majority of aircraft and rotorcraft manufacturers around the world. Aircraft manufacturers realize the benefits of using Dexmet's advanced expanded materials over the outdated technology of woven wire and come to Dexmet for technical knowledge when designing new components.
MicroGrid's single unit structure is superior to woven material in that it won't unravel or have loose strands that become problematic during processing into a pre-preg material or when conducting a dry lay-up. The homogeneous design also ensures uncompromised conductivity between strands when forming the material to a variety of shapes and contours and provides a smooth surface on the end product. MicroGrid's biggest advantage is Dexmet's ability to tightly control the manufacturing process to meet a specific weight, open area, and conductivity requirement. This allows engineers the option of varying materials according to specific strike zones on the aircraft, minimizing the overall weight. Our common materials have the ability to withstand a Zone 1A strike of 200,000 amps.
Click to subscribe to the Dexmet blog and learn more about high-performance expanded metal and polymer applications.
Want more information on expanded metal foils and plastics?
Head on over to our Resources page for product specifications and product sheets!
Watch>>>What Sets Dexmet Apart: About Us
Dexmet Corporation
Dexmet Corporation manufactures precision expanded metal foils and polymers with exacting mechanical and electrical properties to meet very tight conductivity, weight and dimensional tolerances. The company maintains a continuous commitment to quality control and process improvement, including SPC implementation. Ongoing innovations include our unique strand annealing furnace as well as a host of other highly specialized proprietary equipment.
Dexmet's solid customer base is predicated upon its reputation as the premier, quality supplier of precision-expanded metal foils. Many of our customers are among the world's most recognized brands. When they need quality expanded material for their end products and applications they come to Dexmet. We welcome you to the family of Dexmet customers.
The Dexmet Quality System is joint AS9100:D and ISO 9001:2015 certified. The company subscribes to the standard's requisite features, including documentation and record-keeping, while it also maintains a flexible stance toward evolving standards and innovative ideas from our customers and employees. Thus, whenever a better way emerges to reduce cost, reduce scrap, improve quality, improve customer service and make it easier for our employees to produce your product with the smallest possible product variation, Dexmet's Quality System is poised to incorporate these benefits.
The Dexmet Quality System is driven by the needs of our customers. We have adopted many suggestions from our customers and will continue to do so. It is this teamwork that makes us better.
The Dexmet Quality System is driven by the needs of our customers. We have adopted many suggestions from our customers and will continue to do so. It is this teamwork that makes us better.