Drapeformed Lexan
Service Detail from Engineered Plastic Products, Inc.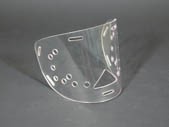 Engineered Plastic Products, Inc. is a manufacturer of thermoformed products from 2"x2" to 72"x108" and in any thickness up to 1 1/2". Products include bins, boxes, cabinets, custom molded cases, packaging, small parts, panels, windows, skylights, aircraft accessories and parts, signs, laboratory equipment, and shapes. All products are produced in plant for short or long run production. We do custom thermoforming and fabricating of all thermoplastic materials from prototype engineering to production assembly.
Click Here to See Our Photo Gallery
Engineered Plastic Products, Inc. Custom Thermoforms and Fabricates Sheet Thermoplastic Materials into products for industrial and commercial applications.
For over 50 years, we have been Thermoforming and Fabricating Thermoplastic Materials for end users such as NASA, Boeing, Lockheed Martin, Johns Manville, Beckton Dickinson and the U.S. Postal service.
This commitment to customer service in all phases of manufacturing from Design Engineering to Production is why we have considerable recognition as an outstanding source for Thermoformed & Fabricated Thermoplastic Products.