Vacuum Thermoforming
Service Detail from Engineered Plastic Products, Inc.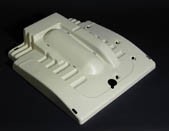 Vacuum Thermoforming
Vacuum thermoforming is a very economical method for producing plastic parts. This process can produce large or small parts in low quantities at a reasonable price. This involves the controlled heating of a thermoplastic material to a temperature where it is pliable enough to be altered by the shape of a mold. This mold can be made of wood, phenolic or aluminum, so tooling can be optimized depending on the properties required. In this method, the heated thermoplastic is forced against the mold by the air pressure differential created by pulling a vacuum between the sheet and the mold.
Engineered Plastic Products, Inc. is a manufacturer of thermoformed products from 2"x2" to 72"x108" and in any thickness up to 1 1/2". Products include bins, boxes, cabinets, custom molded cases, packaging, small parts, panels, windows, skylights, aircraft accessories and parts, signs, laboratory equipment, and shapes. All products are produced in plant for short or long run production. We do custom thermoforming and fabricating of all thermoplastic materials from prototype engineering to production assembly.
Click Here to See Our Photo Gallery
Engineered Plastic Products, Inc. Custom Thermoforms and Fabricates Sheet Thermoplastic Materials into products for industrial and commercial applications.
For almost 60 years, E.P.P. has been in the business of thermoforming and fabricating specialty thermoplastic materials for companies such as Zodiac, Boeing, GE Aviation, and Stryker Orthopaedics.
This commitment to customer service in all phases of manufacturing from Design Engineering to Production is why we have considerable recognition as an outstanding source for Thermoformed & Fabricated Thermoplastic Products.