Filter Minder® Graduated Air Filter Indicator
Product Announcement from Filter Minder®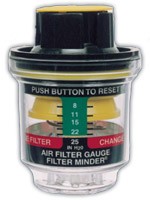 Model No.
135501 (1/8" pipe thread)
136501 (3/8" straight thread
o-ring)
137501 (M-10 thread)

How Does It Work?

The graduated indicator monitors engine air filters. The position indicator progressively fills the window as air filter restriction increases, locking at the highest restriction. The air filter should be changed when the position indicator reaches the red zone.
Mounting
Mounts directly to air cleaner or air induction piping. Adapter fittings are available.
Specifications
Vacuum Indicator (differential and pressure available)
Locking Type (non-locking is available)
Operating Temperature: -40 to +250°F (-40 to +121°C)
Accuracy: ±10% at red zone
Material: Polycarbonate housing
Standard Calibration: 8-35" water vacuum (2-8.7kPa) at the red zone
---