ENSTO Cubo O Enclosures
Featured Product from Ensto USA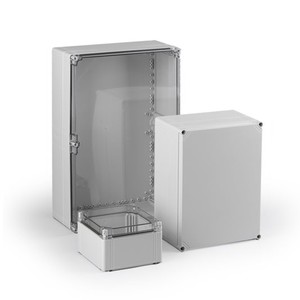 Ensto Cubo O enclosures with plain sides, polycarbonate
Ensto Cubo O is a series of medium to large size enclosures available with plain sides or metric knockouts. Special features of the series allow mounting the cover onto the back of the base and include adjustable elevators for the base corner slots, enabling plates and panels to be mounted at any height.
Ensto manufactures high quality standard and custom UL-listed enclosures of non-metallic polycarbonate and fiberglass. We are an expert in helping you select the best material for you saving you time and money.
We are an expert in providing enclosing solutions to customer demands. In addition to standard enclosures we offer customizing of standard enclosures and also special design enclosures. Our enclosing solutions are used in demanding applications requiring a high degree of protection and impact strength.