Ensto PolyBox UL-Listed Enclosures
Featured Product from Ensto USA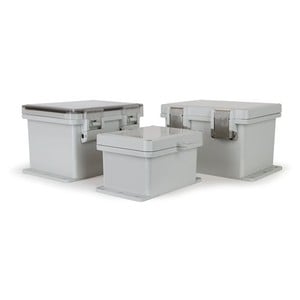 Ensto PolyBox UL-Listed Enclosures
Ensto PolyBox enclosures are rugged industrial polycarbonate enclosures with unique and innovative features, such as the integral nonmetallic latch and a corner elevator mounting system for adjustable hinged front kits and back panels.
Benefits
Reliable long term partner: We are an expert with over 50 years' experience in industrial solutions. We have modern production facilities and quality controlled manufacturing, and offer excellent customer care.
Reliable and fast deliveries: You get our products when you need them. This brings you cost-savings as you can better optimize your stock.
Reliable, certified products: Our products are designed and tested to meet a wide range of industrial applications in various environments.
Products with a long lifetime: Thanks to their good design, our products are reliable and have a long lifetime. This brings you savings in maintenance and replacement costs.
Cost-efficient solutions with local customization
Ensto manufactures high quality standard and custom UL-listed enclosures of non-metallic polycarbonate and fiberglass. We are an expert in helping you select the best material for you saving you time and money.
We are an expert in providing enclosing solutions to customer demands. In addition to standard enclosures we offer customizing of standard enclosures and also special design enclosures. Our enclosing solutions are used in demanding applications requiring a high degree of protection and impact strength.
Contact us to discuss your requiements