Center-line Mount Casing
Featured Product from EnviroPump and Seal, Inc.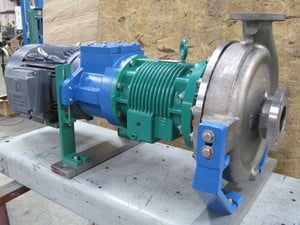 EnviroPump and Seal: Designed Not to Fail
Pumps are the hearts of process plants. And like hearts, when they fail, the process stops. Pumps wear, and they can fail in ways that can not only stop the process, but also cause hazardous accidents. There are four basic ways pumps fail: vibration, heat, poor environment, and installation errors. Enviropump and Seal's product lines are specifically designed to mitigate all these failure modes.
Design Advantages: Centerline Supported Casing
Most ANSI pumps are designed with foot mounted casings. The mounting foot is cast into the casing, and bolts directly to the baseplate.
If the pump is operating at elevated or reduced temperatures then the casing centerline will move from its position during expansion. This can cause serious misalignment issues with the driver (which is not heating and moving at same rate as the pump).
Centerline support simply means that the pump casing is supported at the shaft centerline. This allows thermal expansion growth of the casing to be symmetric from the shaft centerline outwards. Coupling alignment is maintained regardless of the temperature variations.
All EnviroPump and Seal casings through size 4x6x13 are cast with centerline support as standard. Larger sizes will be modified to provide this feature when required.
Proven the most reliable Hot Oil Pump since 1995.
Complete one-stop total package responsibility.
Pump, sealing system, motor, base, monitoring, etc.
Three Year Warranty; includes seal.
Manufactured in USA.
Parts & service readily available.
Advantages
Eliminate fire risk associated with some models.
Eliminate potential for hot oil spray & ignition.
Eliminate personnel safety hazard.
Contain & collect any seal leakage.
Does not rely on thermal oil for bearing & seal lube.
Not susceptible to thermal oil cooking & grit.
Self contained oil mist lube bearing frame.
Shaft fully supported by antifriction bearings.
No sleeve bearings to cook & wear.
Sizes
Sizes from 1×1.5×6 through 8x10x17.
Power to 300 hp.
Flow rates to over 4000 gpm.
Head to 700 ft tdh at 3600 rpm.
Operating temperature to 650oF.
Options
Carbon Steel and Stainless Steel metallurgy.
Centerline mount pump volutes to maintain pump alignment & minimize pipe strain at high temp.
Standard spacer coupling arrangements or C-Frame motor adapters to eliminate coupling alignment work.
Upgrade of existing pumps.
EnviroPump and Seal, Heavy Duty Process Pumps Our strategy is to assemble a wide range of MRO products, unique mechanical seals for the general ANSI/API pump population, and advanced ANSI & API power end upgrades to bring existing pumps up to a higher level of reliability.