pumps and seals....together under one roof
Featured Product from EnviroPump and Seal, Inc.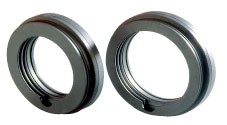 Seals
Enviropump and seal, Inc. is one of the few companies in this industry that has brought the two major parts of this business.....pumps and seals....together under one roof. Along with the pump lines, Enviropump and seal, Inc. manufactures a wide range of mechanical seals including single, double, double concentric, triple and gas barrier seals.
These seals include the "best of the best" technologies and features that you will find in the seal industry, combined with a number of unique developments introduced in recent years. One of the highlights of this product is Enviropump and Seal, Inc. ability to offer this advance technology at a very competitive price with an industry leading warranty and rebuild program. The hydraulic double balance features of the Enviropump and Seal, Inc. seals reduce closing forces and reduce power consumption and heat generation. The field reparability of these seals is a huge cost saving to our customers over the life of the seal.
The sealing program includes an almost endless range of bearing isolators/labyrinth seals for nearly all industrial pumps and motors made. These simple devices replace old lip seals (which wear and damage the shaft, generate high heat and add to the power consumption) with a reliable non-contacting labyrinth design that will last the life of the bearings, keep the lubricant free from contaminates, does no damage to the shaft, generates no frictional heat and consumes virtually no power; this is a wise investment with an immediate payback.
Five Ways Your ANSI Pump and its Seals Can Fail
EnviroPump and Seal, Heavy Duty Process Pumps Our strategy is to assemble a wide range of MRO products, unique mechanical seals for the general ANSI/API pump population, and advanced ANSI & API power end upgrades to bring existing pumps up to a higher level of reliability.